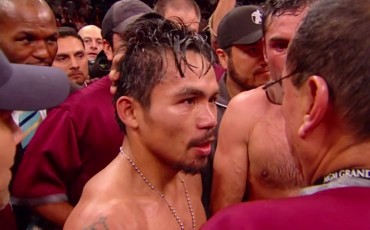 By Anthony Coleman – 2008 is nearly hitting its sunset and now it is time to really look back at what we've seen this year. Well this year we've seen the retirement (read: short hiatus) of Floyd Mayweather Jr., and early this month we saw the end of the "Golden Boy" era when Oscar De La Hoya was defeated in a most brutal fashion by the great Manny Pacquiao. In March we saw the greatest act of arguably Professional Boxing's greatest trilogy. In July, Antonio Margarito finally made the jump to superstardom and the near unanimous respect of all of his critics when he came back to stop Miguel Cotto in the 11th round of their thriller.
Most impressive was the major subplot of this whole year: the number of fighters who made comebacks after defeat. From Bernard Hopkins, Antonio Margarito, Paul Williams, Juan Manuel Marquez, and most impressively, Vic Darchinyan this was the year to prove once and for all that a loss doesn't necessarily mean the end of your career. With that being said it is time for me to start handing out my imaginary trophies to the best of this year in Boxing..
Fighter of the Year:
This was harder for me than most people might believe. This year I had three serious nominees for this award: Manny Pacquiao, Antonio Margarito, and Vic Darchinyan. Now while Margarito had a great year in taking the IBF Welterweight crown from Kermit Cintron in their rematch and then taking Miguel Cotto's WBA crown in July, I couldn't give him the award due to his inactivity. If he would have taken on, say, Paul Williams or a rematch with Joshua Clottey and won convincingly then there is a good chance he would be the Fighter of the Year, but the fact is that he fought only twice and he is going to finish in the number 3 slot. Now we are down to two choices: Manny Pacquiao and Vic Darchinyan.
Both men had great years. In fact I would argue they have both had two of the best years in recent memory (I will discuss this in further detail in an upcoming article). Vic Darchinyan shook off the after effects of his devastating knockout to Nonito Donaire, and went on a roll. He got screwed against Z Gorres, but then defeated Dimitri Kirilov in August for the IBF 115 pound title, and in November was the big one. He dominated pound-for-pound entrant Cristian Mijares enroute to stopping him in 9 rounds. With that victory he won the IBF, WBA, and WBC junior Bantamweight titles, and although people will now begin to argue whether he is the undisputed champion of the division (because of WBO titlist Fernando Montiel still exists), he still won the three biggest titles in the division in a single calendar year. But there can be only one definitive winner and after debating I will have to give the award to the Pac-Man.
In a single year both men defeated Pound-for-Pound level opponents (Pacquiao bested Juan Manuel Marquez in their rematch and of course Darchinyan has Mijares' scalp posted above his fireplace), but Pacquiao's path was more challenging. After defeating Marquez for his WBC 130 pound title, he moved up to Lightweight and gave his most dominant performance ever in knocking David Diaz out cold in 9 totally one-sided rounds. With that victory he picked up his second world title, in the same year, in two different weight classes. Then in December he moved up in weight again to 147 pounds and dominated Oscar De La Hoya in 8 rounds. The fact that he was able to rise up to three different weight classes, win titles in 2 of them, and one of those wins against one of the top five best fighters in the sport, that is the reason why he is my 2008 Fighter of the Year.
Fight of the Year: Vazquez-Marquez III
No offense to the other great fights this year (Margarito-Cotto, Adamek-Cunnigham, Mtagwa-Villa), but Israel Vazquez's victory in his rubbermatch with Rafael Marquez was my clear choice for fight of the year, and it wasn't really close. Once again these two Mexican natives showed what was absolutely great about the sport of boxing, and it was even better than their Fight of the Year rematch from '07.
Rafael Marquez came out strong in the opening rounds learning from his mistakes from the last fight and started pounding Izzy with his sledgehammer jab. For the first couple of rounds he looked dominant and when he dropped the champ on his ass with that right cross in the fourth round I was thinking that the fight may have been coming towards its end. Of course Izzy ended up stunning an advancing Marquez with a left hook and the round continued with the same high skill action that was the stamp of the series.
The last rounds were spent both men trading on equal grounds, but with Vazquez coming on strong on the later rounds. By the 12th the fight was essentially too close to call and it was totally on the table and the champ put together a legendary 12th round rally dropping and nearly stopping Marquez. If you wanted a modern day equivalent of Larry Holmes' last round assault against Ken Norton in their title fight, you got your wish on March 1st, 2008. Quite simply the fight is a classic.
The fact that Rafael Marquez and Israel Vazquez were able to show world class skill, determination, and all out action that exceeded the previous two fights is historic. Right now I put this fight as the runner up to Fight of the Decade (behind Corrales-Castillo I), and I wouldn't be too angry if somebody says that it is the best fight of the decade. But the larger question is the trilogies all-time ranking.
Right now I personally believe that it is clearly superior to the Gatti-Ward and Bowe-Holyfield trilogies, and only slightly better than Barrera-Morales. Most impressive, if you're going purely on action and somebody makes a claim that it is better than Ali-Frazier, I would listen to the case. It is that good of a trilogy and we should thank Israel Vazquez and Rafael Marquez for providing fans such great memories.
Round of the Year: Round 1 of Holt-Torres II.
The rematch for the WBO Junior Welterweight crown was only 61 seconds long, but it included three knockdowns and a most heinous knockout. This is the kind of stuff that makes boxing great.
The fight began with Torres landing a monstrous overhand right on Kendall Holt that sent him straight on his seat. Holt popped up but back up, but then he got nailed again with a combination and was on the floor ten seconds later and 30 seconds into the fight. From that point on Ricardo Torres was set on having an earlier trip to the showers, but he ran into an accidental head butt by Holt which sent him back on his heels, then Holt landed a perfect right cross that sent Torres down and left him dangling on the ropes and knocked out cold. Is there any other need for me to elaborate? Go to Youtube and see the 61 seconds of carnage.
Knockout of the Year: Edison Miranda KO3 David Banks
Part of me so wanted to award this to Kendall Holt after he looked like Thomas Hearns in landing that right hand on Ricardo Torres. But the head butt took some points away and the Miranda's overhand right he landed on the noggin of David Banks was nearly as sweet of a punch and was every bit as devastating so it won the award. This was a true one-punch knockout folks: a fighter who wasn't hurt at all, totally in the fight, but got hit by a massive shot and had no chance of recovering. Miranda timed that right hand perfectly over Banks' jab and Banks followed his part of the script by falling through the ring with only the ring ropes supporting him. As he tried to get back into the ring I felt sorry for David Banks. He looked like a damn fish flapping around out of the fish tank, and he looked like he didn't know what planet he was on. That is the kind of power Edison Miranda has and while it is obvious that he doesn't have much skill and that his chin is now totally hollowed out after his knockout losses to Kelly Pavlik and Arthur Abraham, he will still make money as a foil or a title challenger.
Trainer of the Year: Freddie Roach.
He wins this award because his main charge, Manny Pacquiao, has put together such an amazing year and he is mostly responsible in transforming his style. If anybody doubts the ability of a trainer to teach and fine tune a boxer then I'll show you Freddie Roach and then refer to his handling of the Pac-Man. He has turned him from being a crude athletic power punching brawler, into one of the most skilled and intelligent boxer-punchers in the sport. Roach has become one of the very best trainers of his time and if he continues to keep up his fine work he could very well join his mentor, Eddie Futch, among the list of greatest trainers who has ever lived.
Breakout Star of the Year: Juan Manuel Lopez.
I can't think of any other fighter to win this award besides "JuanMa." In the span of 12 months he went from contender to champion when he successfully blasted out WBO 122 pound champion Daniel Ponce De Leon in one round, and then in his first and second defenses of the crown he would also record first round stoppages. Lopez has all the skill in the world in order to become one of the pound for pound best fighters in the sport: handspeed, clean technique and his punching power is amazing. He might be the best puncher in the sport today. Watching him apply his craft has become appointment viewing, and with 2009 coming around the corner he might just prove to be the best 122 pounder in the sport. Right now I would make him a prohibitive favorite over Cellestino Caballero, a huge favorite over Rafael Marquez (the style matchup is bad for the future hall of famer) and even money with Israel Vazquez. Juanma has all of the skill in the world and hopefully he keeps up this active schedule and continues his momentum unlike other young fighters.
Upset of the Year: Vic Darchinyan KO9 over Cristian Mijares.
Going into their unification fight I would probably bet that at least 95% of boxing fans expected The South Paw Stylist to thoroughly outclass Darchinyan. Afterall Mijares had been on a roll: racking up nine defenses of his WBC Super Flyweight title, shutting out Jorge Arce and taking Alexander Munoz's portion of the Super Flyweight title. Conversely, Darchinyan was one year removed from taking one of the best one punch KOs in recent memory when he lost his Flyweight title to Nonito Donaire. While he moved up in weight and demolished Dimitri Kirilov for his IBF version of the 115 pound title, it finally seemed that a patient boxer-counter puncher had shown the blueprint on combating Darchinyan's wild and reckless style. It only seemed inevitable that Mijares, one of the best pure fighters in the sport would clown Darchinyan on his way to unifying the 115 pound division, but the opposite result happened.
Darchinyan nearly blitzed Mijares in the first round and the Armenian continually punished Mijares throughout the lopsided contest. Every power punch Darchinyan landed seemed to come one step closer to ending his world and the rain of fire finally came down in the ninth courtesy of a Darchinyan Right Jab-Left Cross-Right Cross combo that sent Mijares down. The referee didn't even bother to start the count and waved the fight over, and it was the right thing to do seeing that Mijares was way down on points and taken a beating (plus he was out cold and wouldn't have beaten the count anyway). Now with nearly the entire division in his pocket Darchinyan is looking forward to the future and his fight with Jorge Arce in February and then hopefully a showdown against Fernando Montiel. Whether he wins or loses he should take sweet satisfaction in knowing that he proved nearly the entire boxing world wrong.
Comeback Fighter of the Year: Vic Darchinyan
This was the year of the comeback and Darchinyan was the most impressive of the lot. Most wondered if he was finished after getting sonned by Donaire in July of 2007, but after a controversial draw against Z Gorres (Darchinyan should have gotten the nod), his year kicked into high gear when he destroyed Dimitri Kirliov in five rounds and then made easy work of the aforementioned Mijares. Yet all of this wouldn't have happened if it wasn't for the fact that Vic has truly learned from the mistakes he made in the Doniare fight. While he is still awkward as you can ever be, he is a lot more patient, doesn't jump into his punches quite as much and as shown in the Mijares fight he knows how to use his awkwardness to his advantage. He has now kind of turned into boxing's version of Mugen from Samurai Champloo: his technique is flawed, but it is so hard to get a read on him that he ends up taking you out before you can get to him. Most people cannot stand Darchinyan's personality, and it is easy to understand why, but you can't take away the amazing year he had and the equally impressive comeback.
The "I would gladly destroy my IPOD award if this fighter will not be allowed to fight on TV ever again" award (AKA the John Ruiz award): Yuri Foreman.
Watching Foreman fight is about as pleasurable as getting kicked square in the nuts by a mule. He has continually put on bad fight after bad fight and his win over Vinroy Barrett was a top contender for Worst Fight of the Year. He has now inherited the crown of most despised fighter in all of boxing away from Ruiz. Whenever most of us see his name on an undercard, that is the sign for you to get out of the seat and do something else. He truly is Box Office Poison.
"This Is Some 'ole Bullshit" Award, or Worst Decision of the Year: Valuev UD12 Holyfield.
When I heard this fight was announced I thought it was another farce. Here was Evander Holyfield a man who was shot and should have retired but was given another title shot. Nikolai Valuev, the gigantic WBA Heavyweight titlist, was a major favorite to win the fight and hopefully convince Holyfield to retire. Instead Evander Holyfield pulled out one last spirited performance and outboxed Valuev….then proceeded to get robbed by the judges.
Make no mistake: this fight wasn't even close. I, like most objective observers, had Holyfield winning nine rounds. Holyfield was able to read his opponent's weaknesses and used mobility and the occasional right hand-left hook combination to rack up points, while the champion plodded behind, throwing out a weak and painfully slow jab (seriously I can't believe how slow this guy is). By the end of the fight it looked as if Holyfield was going to get his final retribution and shut up all of the naysayers who said that he wouldn't win another world title, but it wasn't meant to be. This was a horrible robbery and a mark against the sport that we can have judges who will miscarriage the sport.
"John Ruiz-Fres Oquendo" award for Worst Fight of the Year: Wladimir Klitschko-Sultan Ibragimov.
This fight was nearly, so very closely usurped by Valuev-Holyfield, but in the end this managed to suck a little more than the robbery that took place in Switzerland. Klitschko and Ibragimov put on a performance that was absolutely dreadful. Klitschko had plenty of opportunities to land power shots, but proceeded to use his jab and didn't follow up with any meaningful offense because he was so terrified to get hit in return. Conversely Ibragimov agreed to go along with the "silent contract." Once he couldn't box from the outside, he refused to try and get inside and take potential incoming in order pull out a victory. He was seemingly content to stay on the outside, drop a decision, and then go home. It all combined to create a horrible, horrible, horrible fight that represented all that is crippling the Heavyweight division.
Fighter that Needs to retire award: Jeff Lacy.
I could have gone with quite a few fighters this year, but in the end it had to be Left Hook Lacy. His days of being a promising titlist on the verge of superstardom are now over, and he is now totally and clearly shot. All of our worst fears of him being ruined after the smack down Calzaghe laid on him have come to fruition. He looked terrible against Peter Manfredo back in '07, and he was nearly KO'd three times in his "win" against Epifano Mendoza, then he was dominated in November in his unanimous decision loss against Jermain Taylor. It is over and he has all the earmarks of a shot fighter. He has no legs, his balance is terrible, and his handspeed and upper-body movement is turtle like slow. He shouldn't be fighting any longer and lets hope he comes to his senses and hangs the gloves up.
Stock Market Plunge Award: Paulie Malignaggi.
Some of the people who are reading this would probably give this award to Amir Khan, but in my boxing world, he was only a prospect with a suspect chin that finally got wrecked. He wasn't a champion and hadn't fallen from great heights to down below. However, Paulie Malignaggi was a somebody who is now a near nobody, and he will find it difficult now to get a big payday.
After taking a courageous pounding at the hands of Miguel Cotto in 2006, he gained a lot of fans in the sport. He showed a ton guts and despite the lopsided score, had exhibited some real undeniable talent in the ring. In 2007, he would dominate Edner Cherry to a unanimous decision victory and later that same year he would shutout Lovemore N'Dou in winning the IBF Junior Middleweight title. At the moment he looked like a top five 140 pounder and some wondered that with his style he could upset the true champion, Ricky Hatton, if they ever fought. Then reality set in.
At the beginning of the year, Malignaggi struggled mightily with Herman Ngoudjo. Then in his rematch with Lovemore N'Dou, he wasn't able to recreate his brilliant performance from the first meeting and arguably didn't deserve the decision. Then in November, when he finally got his shot at Hatton, he got roughed up and dominated. Yet even worse was that unlike his performance against Cotto, he gave a half-hearted effort and didn't even try to win the fight in the late rounds. In the 11th round, his trainer, Buddy McGirt (whose stock has plunged just as much as Malignaggi) threw in the towel, even though Paulie hadn't been dropped and was still able to throw back. Immediately afterwards Malignaggi pushed McGirt in anger, but he only has himself to blame.
McGirt made it clear that he would stop the fight if Malignaggi didn't show the urgency of a fighter down heavily on points. He essentially quit and McGirt saw no reason to let the fight go on. In short Malignaggi was awful that night and should be ashamed for his lack of effort. Even worse is the fact that he may not even be considered a true contender in a division that is shallow on talent. His career near the top is probably over unless he can do something dramatic.
Well that is the end of my awards ceremony and I thank you for reading and now we can look forward to what 2009 is going to provide the sport. I'm hoping to see these events:
-Unification tournaments for the Lightweight and Junior Featherweight division.
-Mayweather vs Pacquiao (I honestly think that this fight will take place next year)
-Pavlik-Abraham.
-Chad Dawson vs. Bernard Hopkins.
If these events happen then 2009 will almost certainly be a good year.