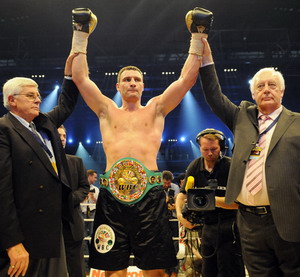 14.10.08 – by James Slater – Vitali Klitschko, by way of his crushing October 11th victory over Samuel Peter, made he and his brother's dream of becoming the first boxing brothers to simultaneously hold versions of the word heavyweight title a reality. Now a two-time WBC champ, the 37-year-old "Dr. Iron Fist" is in no way content, however. Still hoping to achieve even more in the ring – in particular adding the WBA strap, the only title they don't have yet, to the Klitschko household and even getting a second fight with Lennox Lewis – Vitali made it clear he is by no means satisfied yet.
Speaking to me over the phone on the Monday after the Peter fight, Vitali had the following things to say.
James Slater: Firstly, congratulations, Vitali on your fine win against Peter.
Vitali Klitschko: Thank you. Yes, many people said to me that after having over three years out I would not be able to come back. But these people thought I was just sleeping for three years and taking medication [for various injuries]. But every day I was out of the ring, I trained. Every day for two or three hours. Also, the time out gave me time to recover from injuries and I now have total health and I feel very well..
J.S: Were you surprised at how easily you handled Peter and that the 28-year-old quit like he did?
V.K: I knew it was a big risk [taking the fight]. It was a one-way ticket, because if I'd lost I wouldn't have had the opportunity to have a rematch. Also, I would have lost my reputation if I'd lost. Peter was seen as one of the strongest heavyweights in the world, second after my brother. But I am grateful to the friends that believed in me and who supported me. Now, to the fight. Yes, I was a little surprised [when Peter remained on his stool]. The thing is, he has an iron jaw, no, an iron head (laughs). I hurt him, and what's my nickname? Doctor iron fist, yes? I hit him and he still stayed. So I was surprised he quit. But I knew I was in great condition. I had great preparations and my training camp went well. I had my full power to work.
J.S: Now that you and Wladimir have made your dream come true, how does it feel, to have made history?
V.K: We always had the dream to reign as champions at the same time. You know, without dreams life is boring. We both wanted to become Olympic gold medallists, but I could not go to the Olympics, but Wladimir did and won his gold. So we had another dream, to co-reign as world champions, the first in history. We always try and give the best to the fans. And now we have another dream, to take all four belts home. Some people smile at this and the there are sceptics, but if you have a dream you must try and make it come true.
J.S: Have you and Wladimir been celebrating since Saturday night?
V.K: Yes, we have, with our friends and family. We haven't really had time for big celebrations because this is such a busy time right now. But I'm so happy right now.
J.S: Who would you like to fight next, is it going to be Nikolay Valuev?
V.K: Well, there's only one guy out there with a title now, and we want all four. So, Nikolay Valuev is a very interesting fight, yes. He is a huge guy, the biggest heavyweight ever. But I have big hopes, big hopes, for a second fight with Lennox Lewis. I want to give the world the fight they all want to see. You know, I'm very thankful to Lewis. He gave me a chance to prove my skills against the strongest heavyweight in the world. He is the strongest man I have ever faced and I have almost 20-years of fighting experience. It would be so interesting to do it again.
J.S: Lewis seems to be content in retirement and he'd probably think a rematch would be too risky.
V.K: Look at Henry Maske, he came back to regain his title after ten years out! You see, if a fighter has skills he never loses them. It would only take Lewis a few months to get back in top condition, he will never lose his skills – you either have them or you don't. And Lewis is like me, in that he lives a healthy lifestyle, doesn't smoke or take any drugs. So I have big hopes he will want to fight me again.
J.S: You'd prefer that fight than one with Valuev then?
V.K: Of course – who is Nikolay Valuev compared to Lennox Lewis?
J.S: Moving on, what do you think will happen when Wladimir meets the unbeaten Alexander Povetkin in December?
V.K: I know Wladimir is preparing very well, and is working on his skills. I think Povetkin is a good prospect with a good future, he has an Olympic gold medal just like Wladimir. But how many fights has he had, sixteen? I think his management have made a big mistake putting him in with someone as strong as Wladimir. He's too young, he has good potential, but now is too early. I have no problem with Wladimir fighting him. It won't be an easy fight, but in my honest opinion, I think Wladimir destroys him.
J.S: Can I ask you about David Haye? He has now reportedly called out both you and Wladimir. Would you like to fight "The Hayemaker" one day?
V.K: (long pause and then a big sigh) I'm not ready to give you an answer to that. You see, with me it's all about motivation. I have motivation to fight for another belt or to fight Lennox Lewis again, but I really don't think about him [Haye] at all. Maybe, if he becomes a big number payer (money-wise) in the future…. (laughs).
J.S: I want to thank you for your time, Vitali. It's been a pleasure speaking with you.
V.K: Thanks to you for the good words and questions. Keep in touch.