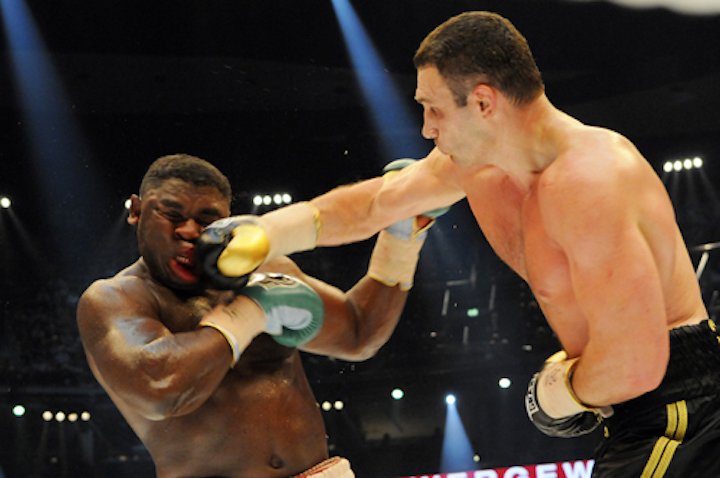 by James Slater – Tonight, In Berlin, Germany, 37-year-old Vitali Klitschko battered a disappointing Samuel Peter to defeat after eight pretty dull rounds. Making history as he and his brother, Wladimir, are now the first boxing brothers to simultaneously reign as heavyweight world champions, "Dr Iron Fist" won every round on his way to making defending WBC champ quit on his stool at the end of eight boring rounds..
Basically controlling everything with his left jab, which he occasionally turned into a hook, Vitali was the boss all night. A few right hands shook Peter, and at times it seemed Klitschko was on his way to a KO victory over the slow, plodding and discouraged "Nigerian Nightmare," but instead the bout dragged on for round after boring round.
There was no highlight round to speak of, and though the 28-year-old tried at times he never committed himself anywhere near enough. By the 4th round, Peter's face began swelling and the writing was on the wall for anyone watching – the older man was going to triumph.
Never did the German fans, who love the Klitschko brothers, boo, but had the fight been held in Las Vegas this would not have been the case. The WBC open-scoring announced after four rounds that Vitali had won all the completed rounds, and this came as no shock to anyone.
A good right hand to the head shook Peter in the 5th, and Vitali, had he really gone for it, may have finished things. Instead, the contest lumbered on into the 8th round, the pattern having remained the same. Never once did the younger man hit Vitali with anything overly noteworthy, and the returning veteran never had his chin tested. He looked the master all night tonight, but due to Peter's poor showing we still don't really know how much Klitschko has left.
Soon after the open-scoring was announced for the second time, at the end of the 8th round, a negative Peter who began shaking his head upon hearing the scores quit and remained on his stool. No boos were heard, as deafening cheers instead welcomed Vitali's history-making victory.
One judge somehow awarded Peter a round, but it is hard to see which three minutes the official gave him. Overall, despite the huge hype, tonight's fight was a letdown. But try telling that to the Klitschko fans in attendance. As long as their hero wins, it seems, they are happy.
Vitali improved to 36-2(35). Peter fell to 30-2(23).