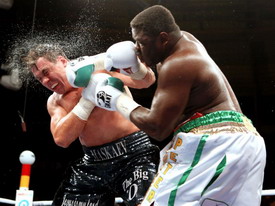 By Ted Sares – Welcome to my chat room where anything boxing goes. Topics that are presented for discussion are the following, but feel free to inject your own topic as long as (hopefully) it pertains to boxing.
1) How can something be done to shake up the heavyweights so that we can get some sizzle and rock and roll back into the fights? The technically proficient Eastern European fighters win, but not in a very fan-friendly manner. How can this change? Or should it?
2) Paul Williams is back. Is there anyone out there who can stop the "Punisher Express?" Freakishly huge at welterweight, he even dwarfs most middleweights. But could he compete with the likes of Kelly Pavlik?
3) Is Monte Barrett a true test for the very vocal David Haye or will Haye take him out early with a malefic straight right as I suspect?
4) I would not be shocked if Paulie Malignaggi beats Ricky Hatton. Yet "The Hitman" is looking to fight the winner of De La Hoya-Pacquiao. How realistic is Ricky being here, particularly after his less than compelling showing against Juan Lazcano?
5) Sam Peter will fight WBC Champion Emeritus Vitali Klitschko on, October. 11. If successful, Klitschko will join his younger brother, Wlad, as the only brothers in history to hold world heavyweight title belts simultaneously. I'm betting the giant Ukraine's ring rust might be too much of a handicap to overcome the more active, albeit more rotund, "Nigerian Nightmare." What do you think?
6) I have finally concluded that Edwin Valero is over-hyped and lacks the skills to compete successfully against top level fighters. Like Ponce de Leon, he throws wide and amateurish punches and lack defensive skills. If he fights Manny Pacquiao, I see Pac-Man" stopping him in early. And somone like Juan Manuel Lopez, who has great hand speed and uses short, super fast combos, would absolutley destroy Valero if they ever fought at a reasonable catch weight. Some also say Valero doesn't even belong in the ring given his confirmed medical issues.
What do you think? Pour yourself something frothyor something stronger, light up that 60 ring corona (or whatever) and let's have at it.