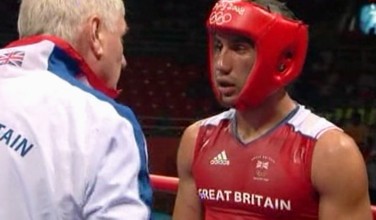 by James Slater – Fresh off his superb gold medal win in Beijing, middleweight talent James DeGale has been talking about his future. The 22-year-old British boxer has not made up his mind yet about turning pro or not, but, as he told The Sun newspaper today, he is sure he will not follow in the footsteps of heavyweight Audley Harrison.
As fight fans know, "A-Force" was once in the exact same position DeGale finds himself in now. Yet after doing the same as DeGale and capturing a much sought after Olympic gold medal, Harrison became a huge letdown as a professional. Harrison made some good money, but never got as far as challenging for a major title (though he is still trying and has not given up yet).
After beating Cuban favourite Emilio Correa in Beijing, DeGale is rightly proud of himself. He is also being offered a lot of money by various people to turn pro. Speaking to U.K paper, The Sun, DeGale spoke about what he thinks he might do next.
"Audley [Harrison] comes from the same part of London as me but I'm not in any rush to repeat the mistakes he made," DeGale said. "Audley was 28 when he turned pro and I am only 22, so time is on my side more. Audley tried to do everything himself – promoting, training, fighting, the whole lot – and it was probably too much for him. I'll be thinking about what he did and the pitfalls when I decide on my next career move."
An exceptional talent, a number of promoters from both sides of the Atlantic are very keen on getting DeGale to sign a contract and begin a pro career. The 22-year-old says he'd rather remain as an amateur – if he can afford to do so. Currently earning £350 (approx $700) a week as an amateur boxer, James says he has his eyes on the 2012 games, which will take place in his home country, of course.
"I've had text messages from two major promoters back home," DeGale revealed. "It's going to be hard to turn my back on £1 million. I want to pay off the mortgage and buy a nice car. But if I can do that by staying amateur and going for another gold medal in my home city in 2012, I'll do it."
Whatever he decides to do (for this writer's money, DeGale will turn pro), the U.K has a new boxing star.