29.07.08 – by James Slater: Well, former heavyweight champion Hasim Rahman got what he wanted in the end. According to a news flash on FightNews.com, the official decision of Rhaman's July 16th rematch fight with James Toney has been demoted from a 3rd round TKO win for "Lights Out" to a No Decision..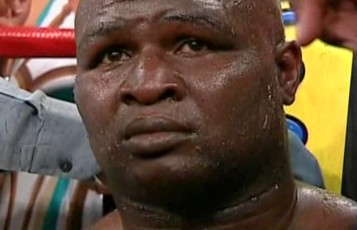 Toney will likely, and justifiably in this writer's opinion, be furious, but "Rock" is reportedly delighted with the news. Complaining bitterly as soon as the original result was announced by the M.C on July 16th, Team Rahman put an appeal in in an effort to wipe the TKO defeat from the 35-year-old's record. The appeal has worked. But will the fans be happy?
To the opinion of most observers, Rahman chose to take the easy way out after having been cut by the accidental head-butt. The cut, though a nasty one, was far from the worst one seen in a big fight. Indeed, Toney himself chose to fight on when cut in his middleweight title fight against Tim Littles years ago – preferring to KO his opponent as opposed to accepting to retain his title on a technicality. It seemed clear Rahman felt he'd get a No Decision against Toney, what with the damage to him being done before four rounds were completed. But his plan almost backfired when it was initially announced that "Lights Out" had earned himself a TKO.
The following statement made by Armando Garcia gives Rahman what he wanted after all.
"I have reviewed Rahman's appeal, and have determined that the wrong decision was made on the night of the event," said Armando Garcia, executive director of The California State Athletic Commission. "Therefore the bout will be ruled a No Decision."
Promoter Bob Arum of Top Rank, called the new verdict "a true and just result." Adding, "I want to commend the California Commission and particularly its executive director, Armando Garcia, for handling this situation so expeditiously and for having the courage to reverse a decision made the night of the fight."
A happy Rahman expressed his gratitude to Mr. Garcia.
"I am gratified," Rahman said. "It is the right thing to do and I appreciate Mr. Garcia's efforts."
So far, neither James Toney or his promoter Dan Goossen have issued any public statement. Also unclear is whether or not a rematch, in this case a third fight, will be called for between the two veteran heavyweights. However, British boxer David Haye did say last week that should Toney-Rahman be changed to a No Decision, Rahman would be "right back in the mix" as a choice for his November opponent.
Stay tuned.