Former heavyweight contender Seamus McDonagh weighs in on his Irish counterpart, undefeated junior middleweight James Moore. Moore will open ESPN 2's Wednesday Night Fights on June 4 from the Aviator Sports & Recreation Center in Brooklyn, NY. The enormously popular James Moore, 15-0 (10 KOS), a native of County Wicklow, Ireland, who fights of Queens, New York, will open the June 4 show at the Aviator Sports & Recreation Center that will be televised on ESPN 2's Wednesday Night Fights. He will take on Gabriel Rosado, 9-2 (6 KOS), of Philadelphia..
The main event will feature Yusaf Mack, 24-2-2 (15 KOS), of New York via Philadelphia vs. Daniel Judah, 22-2-3 (10 KOS), of Brooklyn. At stake will be the vacant NABA light heavyweight title. The show is being promoted by Winky Wright Promotions, in association with Thomas Gallagher Productions.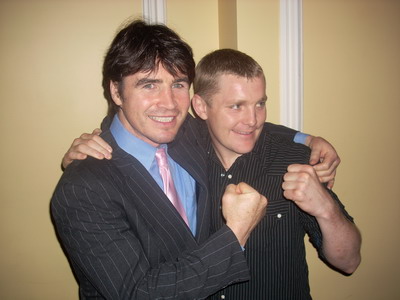 In attendance will be Wright, a former world champion, as well as Gallagher, who starred in season one of "The Contender" reality television series. Also there to cheer Moore on will be Seamus McDonagh, a native of Ireland who compiled a 19-3-1 (14 KOS) record during a career that lasted from 1985-91 and saw him square off against Evander Holyfield.
Like Moore, a veteran of 314 amateur fights and the onetime captain of the Irish national amateur team, McDonagh was tremendously popular amongst Irish and Irish American fans. He believes that Moore is a shoo-in to win a world title as soon as he gets the opportunity to fight for one.
"James is the most confident fighter I've ever met," said the extremely intelligent McDonagh, who is now an actor. "He really is an exceptional guy. He has so much experience as an amateur, and he is really putting that to good use in the pros."
McDonagh said that being an Irish athletic hero can be a double-edged sword. "Going to the fights and cheering on one of their own is an emotional release for the Irish, especially those living in the United States," said McDonagh. "They have left their home because of their hopes and dreams. They look at a fighter like James and say, "if he can do it, I can do it (bring dreams to fruition). Many are living vicariously through him."
McDonagh says that when he trained he ignored his fears, but when the bell rang the fear factor would kick in. Had he learned how to deal with his fears more healthily, he believes her would have been more successful. He says that Moore has a much greater emotional foundation, much of which comes from his extensive amateur career.
"There is so much spectacularism in the United States, but none of it has affected James," said McDonagh. "He is truly like an old-time fighter. He doesn't get caught up in all the hoopla. He just goes out and does his job very well. He is very easy to root for because he is such a regular guy, even though he is such a dedicated athlete. He has everything it takes – the physical tools and the mental and emotional components – to be a world champion. He will be a world champion."
The Aviator Sports & Recreation Center is located on Flatbush Avenue, just south of the Belt Parkway, Exit 11S, Brooklyn, NY 11234. Doors will open at 6:30 P.M.
For tickets call Gleason's Gym at 718-797-2872. For tickets and sponsorship opportunities contact Tommy Gallagher at 917-774-3517.