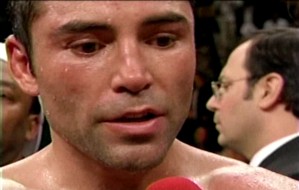 by James Slater: Not long now until "The Golden Boy" himself, Oscar De La Hoya, makes his latest return to the boxing ring. May 3rd, as most fans surely know, is the date and Steve Forbes is the opponent. Oscar's been doing a good job in publicising the fight, too. In an interview with The Sporting Life, the 35 year old living legend had the following to say.
"There is no looking past Steve Forbes," The former six-weight world champion began. "I've been training so hard for this, as though it's the most important fight of my life, " De La Hoya claimed.
When reminded about what happened the last time he boxed a guy most people, he included, felt was a relative soft touch (in Felix Sturm) and therefore the all-time great slacked off in training, Oscar had a firm response.
"That's never going to happen again," De La Hoya declared. "That's the last thing I want at this stage of my career. This is his [Forbes'] dream fight, but for him to beat me it's going to take something special because I'm going to put on a spectacular show," Oscar also said.
Let's face it, against a guy as naturally light as Forbes, Oscar should be able to win, and win in style. Forbes is a good, capable and world class fighter, but he is simply too small. Still, De La Hoya is entitled to one tune-up. But what are his plans after that? Oscar still has his "three more fights and out game-plan," but who will he possibly fight in his very last bout?
"You can never count anybody out, you can never scratch anybody off the list," Oscar said when considering his final opponent. "Obviously there's Miguel Cotto, who's considered one of the best. But it's too far ahead. There's not going to be any fights in 2009, no fights past December. I want to have these three fights and go out like a champion," De La Hoya explained.
You've got to hand it to De La Hoya, he is at least having one of his most active years in a long while in his final twelve months in the sport. The mere suggestion of a fight with Cotto, however, would definitely get a lot more fans interested than the one with Steve Forbes has. Should Oscar face Cotto, either immediately after Forbes, or in his farewell bout in December, "The Golden Boy" would, win or lose, reinforce his reputation, even in the eyes of his biggest detractors, as a true warrior. Indeed, a De La Hoya-Cotto fight would likely bury anything Floyd Mayweather could do – aside from "Pretty Boy" taking on Cotto himself, that is.
We don't really want to see Mayweather-De La Hoya II, but it looks like we're going to anyway. Should Oscar also give the fans a Cotto fight, however, he would indeed retire as a true all-time great. If this is not the case anyway.