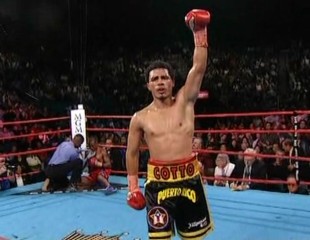 by James Slater: Providing he does as most experts feel he will, and gets past the tough Alfonso Gomez in his next fight in April, WBA welterweight king Miguel Cotto will face the always dangerous Ricardo Mayorga in July. Such a match up is one that is in no way a natural or demanded one, but it just might be that a fight between the Puerto Rican legend and the unpredictable Nicaraguan will be one hell of an entertaining fight.
Let's face it, Mayorga has never been in anything but a watch able fight – win or lose. The most pertinent question regarding a bout between Cotto and the former WBC and WBA 147 pound champion, however, is is there any way the 34-year-old wild man can possibly reach that weight again – at least in a healthy and ready-to-fight manner?
Last time out, Mayorga, 29-6-1(23) was beating up arch rival Fernando Vargas – at a weight of 164 pounds! How on earth then, can the veteran lose the necessary 17 pounds? Sure, Ricardo fought Vargas back in November 2007, and the prospective fight with the unbeaten Cotto is not until July, but even giving Mayorga that many weeks in which to shift some bulk, can he really be expceted to be one hundred percent ready for the murderous punching welterweight star in time, if at all?
Mayorga is unafraid of any fighter. That is simply his nature, and come fight time, whether he's strong at 147 or not, he will go right at Cotto in an attempt at knocking him out. As such, the bout could very well be extremely lively and fierce for at least a few minutes. But once Cotto – a man who is both at the very top of his game and massively strong at welterweight – gets to grips with Mayorga's wild approach and rams in some wicked body shots, how can the Nicaraguan be expected to last?
Many fans will no doubt be surprised and annoyed that Mayorga is the man who is next on Cotto's dance card, what with so many other more deserving welterweight contenders out there – the much avoided Joshua Clottey for one. But will the fight sell, and will it please, at least for a few rounds? Cotto does have a habit of maybe taking an opponent seen as not much more than a gimme quite lightly. The mighty Puerto Rican banger has done this on at least two occasions, the Ricardo Torres fight being the most obvious time. That fight was down at 140, and it's possible Cotto was somewhat weakened at that weight. Yet for paying Torres less than total respect he was hurt and in danger of losing. Will Cotto underestimate Mayorga, a fighter seen by many as being over the hill, also?
Of course, it's possible Cotto will fail to be at his very best against Gomez in April, and as such he may lose in a big upset. Such a scenario cannot be written off completely. And if the likable Gomez DOES defeat Cotto, then all talk of what may happen when Mayoraga and the current WBA champ tangle will be made totally irrelevant. I wouldn't bet on this version of events taking shape, but you never know.
What is likely, is the fact that although he is not necessarily fighting the best available competition, Miguel Cotto's next couple of bouts will be very interesting ones indeed. For should the 31-0(25) Cotto do as most anticipate, and KO Gomez without too much of a struggle, it just might be that Ricardo Mayorga gets extremely lucky in that he finds himself in the ring with an over confident and somewhat bored and under trained Puerto Rican superstar on July 19th.
And if that happens, we might be on for a fight of the year candidate!