28.02.08 – Photos by Tom Casino: Israel Vazquez and Rafael Marquez will square off in a highly anticipated rubber match for the WBC/The Ring Magazine super bantamweight title this Saturday, March 1, at the Home Depot Center in Carson, Calif. Vazquez-Marquez I and II produced the most exciting, bloody, give-and-take slugfests of 2007, with the second bout winning Fight of the Year and Round of the Year honors. Now, the Mexican warriors face each other in the final battle for honor, pride and 122-pound supremacy on SHOWTIME CHAMPIONSHIP BOXING (9 p.m. ET/PT, delayed on the west coast)..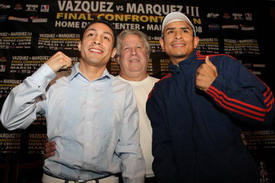 The showdown is promoted by Gary Shaw Productions, LLC, in association with Sycuan Ringside Promotions, Golden Boy Promotions and Romanza Boxing Productions.
Tickets, priced at $300, $150, $75, $50 and $25, may be purchased at The Home Depot Center Box Office, open 10 a.m.-6 p.m. Monday through Friday, at all Ticketmaster retail ticket locations, as well as www.Ticketmaster.com and Ticketmaster-Charge-by-Phone, by calling 213-480-3232.
Doors open at 4 p.m. The first fight is at 4:15. Vazquez-Marquez goes live at 6 p.m. PT.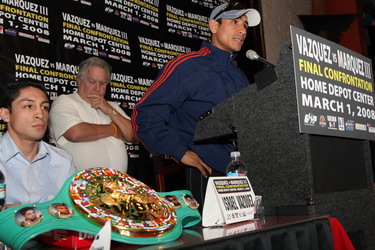 GARY SHAW (promoter)
"The Wladimir Klitschko heavyweight title fight last Saturday was everything that is wrong with boxing. Vazquez-Marquez III is everything that is right about the sport. We need more fights like this one.
"What happened yesterday (a Tuesday press conference to announce another fight in Los Angeles) was also totally wrong.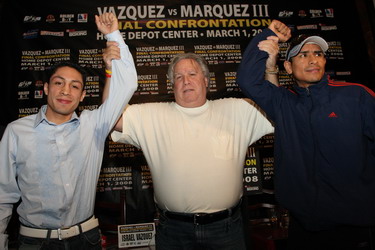 "This week should belong to two Hall of Fame fighters, Israel Vazquez and Rafael Marquez, who have literally left their blood on the canvas in two prior fights, and are about to complete their amazingly exciting trilogy Saturday at the Home Depot Center on SHOWTIME.
"That is what this week is all about and should have been all about. Nothing personal against Golden Boy – we are going to sellout anyway. But for the life of me I will never understand why they did what they did, especially when they (co) promote one of the fighters (Vazquez).
"Why would a promoter try to take the limelight away from one of their own fighters? This should have been Israel's time, not Oscar's.
"What they did was just flat-out wrong and makes no sense no matter what they say or how they try and spin it.
"Don't talk about trying to change boxing and make the sport better and then pull stuff like this. Frankly, it is an insult to promoters, the media and the fans.''
ISRAEL VAZQUEZ
"Deep down in my heart, I know and believe I am going to win by knockout Saturday night. I have the utmost respect for Marquez – everybody knows that – but in the ring it is a totally different story. I have to win by knockout. There is no other option.
"This is a very important fight for boxing, but it is more important for my career and my legacy. This fight will go down in history. When they mention Marquez' name, my name will be tied to him because of the legendary trilogy that we fought against each other.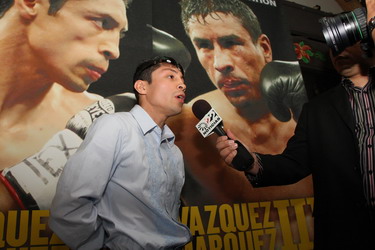 "My only goal is to win. A victory Saturday will set me up for my entire life. The victory will be for my fans and the sport of boxing.
"I am going to be throwing punches with the baddest of intentions. I want to tear Marquez apart in the ring. I am ready to fight right now.
"My main concern for the fight is to impose myself at all times. If Marquez wants to get into a boxing match with me and not trade shots, the fight might go the distance.
"If he trades blows with me, this will end before the 10th round and I will be the winner."
RAFAEL MARQUEZ
"Please don't miss this fight. It is going to be a war. The first two fights were wars, and this is going to be a classic battle.
"I think I can control the tempo. I did it in the first fight. I just have to keep my rhythm and throw the right kind of combinations that I have been working on in camp.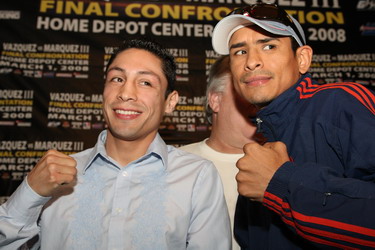 "I can fight Vazquez in close situations, but I don't want to expend too much energy doing that. I will engage him when I set him up for it. He will feel it when I put the pressure on.
"There is no bad blood between Vazquez and myself. We are professionals and we want the same thing, to win fights and world championships.
"I miss that WBC championship belt that he took from me in the last fight. I want it back. It is a terrible feeling to lose your championship belt.
There is only one thing on my mind, and that is regaining that green WBC super bantamweight belt. I will get it back."