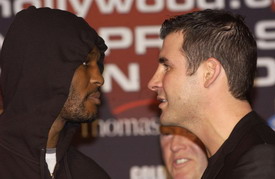 20.02.08 – By Matthew Hurley, photo by Hoganphotos.com/Golden Boy Promotions: Bernard Hopkins and Joe Calzaghe took their press junket from England to New York on Tuesday. The two fighters, who will meet on April 19th at the Thomas & Mack Center in Las Vegas, are beginning to display a level of increased intensity in their comments towards one another. Hopkins 48-4-1 with 32 KOs, who recently got in a dispute with a British television commercial crew over the unsavory conditions of the shoot (the clip can be seen on Youtube.com) was in his usual form, basking in past glories and in his image as a legend of the ring.
Hopkins, decked out in a black hooded sweatshirt said, "I'm the best who's ever done this in my era. I'm going to punish him slowly. I'll ask that his father (Enzo) is merciful to him and pull him out when he is getting hurt. I'm going to prove that the sand hasn't run out of the (hour) glass yet and I'm going to retire on my own terms in my own way.."
The forty-three year old fighter, who has long since broken the promise made to his mother that he would retire before forty also indicated that he will continue to fight on after the Calzaghe fight. He then compared himself to another fighter who broke the age barrier by winning a title at an advanced age.
"I feel if I truly wanted to I could fight until forty-five if I choose," he said. "I think I'm the modern day George Foreman. I'm not underestimating Joe, you all know that's not my style. One thing you can bet your life insurance on is that I'll come in shape and I'll come to fight."
For his part Calzaghe, 44-0 with 32 KOs seems to be relishing the attention the American media is affording him. The fight with Hopkins represents his first on US soil and he feels that by beating a legend, albeit and older version of one, he can cement his status as one of the very best fighters of his era.
"After beating Mikkel Kessler, ten years undefeated, I had to look for the next goal," Calzaghe said. "And for me it's not looking for the easy goal but the most difficult task. The more difficult the task the better I perform. That's why I wanted to fight Bernard Hopkins – not just fight him but fight him in America."
Calzaghe then went on to add, "I've always wanted to fight the best in America and Hopkins is not only the best light heavyweight in the world, but one of the best pound-for-pound fighters as well. I want to be known as a great and a legend and these are the type of fights that I need."
In regards to Hopkins remark that he will win by "any means necessary", Calzaghe acknowledged Hopkins penchant for rough house tactics.
"Look," he said with a slight shrug of his shoulders, "I believe I will win every round. If Hopkins wants a war then I will give him one on April 19th and meet him toe-to-toe. If he wants a chess match I'll give him a chess match and out box him. All I can say is that I will remain unbeaten."
The Hopkins – Calzaghe light heavyweight bout will be telecast by HBO. The cable network has also announced that they will air a special thirty minute documentary on both fighters on April 12th with repeated airings running until fight night. Tickets for the fight are now on sale.