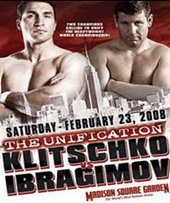 19.02.08 – By Ted Sares: What's at stake: The heavyweight unification fight between the IBF Champion Wladimir Klitschko and the WBO Champion Sultan Ibragimov. Itfs Russia and the Ukraine in this battle of Eastern European heavyweights.
Records: Klitschko, 49-3 (44), has an impressive 85% KO percentage. Ibragimov, 22-0-1 (17), has a KO percentage of 74%.
Styles: Klitschko, at 6f-61/2ff with an 81f reach, is improved in all areas and can take an opponent out with left hooks (Ray Austin), a signature lethal straight right (Calvin Brock) or ultra punishing jabs (Lamon Brewster). His stamina has improved and so has his focus under the masterful direction of Manny Steward. The PhD from the Ukraine has become a Killing Machine, pure and simple..
Ibragimov, a 6'2 southpaw, is a hard working, in-and-out type fighter who adjusts well and gets the job done, but he does this in a less than crowd pleasing manner. His recent UD over Evander Holyfield attests to that, though one cannot help thinking what would have happened to the gReal Dealh had he been in there with Wladimir. Itfs a scary thought. Against the mummified Shannon Briggs, Ibragimov fought a disciplined and smart fight to take the win and the WBO heavyweight title.
Level of Opposition: Clearly in favor of Klitschko as Iggyfs resume is filled with less than stellar opposition including names like Andy gThe Sandmanh Sample, Zuri Lawrence, Friday Ahunanya, Alfred gIceh Cole, Lance Whitaker and Mexican heavyweight Javier Mora.
Wlad has fought Brewster twice, Chris Byrd (twice), Samuel Peter, Eliseo Castillo (18-0-1 coming in), Jameel McCline, Ray Mercer (30-4-1 at the time), Derrick Jefferson and many other who came in with excellent records, but who never seemed quite the same thereafter.
Common Opponent: Ray Austin who was demolished by Klitschko in a matter of seconds, but held Sultan to a controversial draw (which many though should have been a win for the gRainmanh from Cleveland).
Outcome: The Russianfs style will give Dr. Steelhammer some early trouble, but once Wlad breaks the combination and sets the tempo with his savage jabs, he will take control. And he will not be immobile like Briggs or herky-jerky like Holyfield. As he picks up the jab volume in his usual fashion, Ibragimov will be set up for the inevitable molar rattling right that will knock him out for the first time in his career somewhere around the seventh or eighth round. However, before the icing, he will give a good account of himself.
Visit Ted Sares at www.tedsares.com