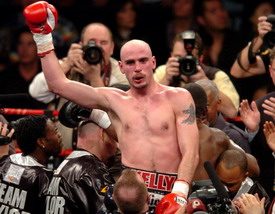 17.02.08 – By Frank Gonzalez Jr, photo by Naoki Fukuda: Five months after Kelly Pavlik (33-0, 29 KO's) knocked out Jermain Taylor (27-2- 1 Draw, 17 KO's) and captured his WBC and WBO Middleweight Titles; they met again Saturday night at the MGM Grand in Las Vegas, where Taylor got a chance to redeem himself and win back his pride if not his Titles, which were NOT on the menu for this rematch. The contracted weight for the fight was 166-pounds, six pounds over the Middleweight limit. It was Taylor's request and Pavlik graciously accepted.
Taylor has a champion's heart and did not want to fight anyone other than the man who beat him. Like he said, 'this is boxing the way it ought to be.' And I concur. Lucky for us fans, Kelly Pavlik also has a champion's heart and he was as ready for the rematch as Taylor was intense..
The best part about this fight was the balances that often existed between both fighters in many rounds. Taylor obviously studied their last fight and trained himself mentally to not make the mistakes he made last time. To his credit, he kept himself away from the ropes and worked his jab and combinations. As emotionally charged up as he had to be, he kept his cool and didn't waste energy throwing meaningless punches.
Pavlik showed up much the same as he did last time up. He methodically worked behind his jab, pressing Taylor when he could and scoring well with jabs and follow up right hands. The difference this time up was that Taylor was so much more disciplined, he attacked in spurts instead of wildly so as to better conserve his energy. He fought a smart fight within the bounds of his abilities and gave a good account of himself. The intensity of Taylor alone was impressive. He managed to land many good shots but this time, Pavlik was a bit more astute on defense and avoided the canvas.
*
The Fight:
Just before they started, the stare down was pretty intense. Neither had an edge in that department.
Round One
It started with a measured tone. Both used their jab effectively. Pavlik landed a big jab that saw Taylor go backwards. Pavlik landed a good shot to the body. Taylor came back with a solid left hook! Pavlik landed a right. They exchange punches at the bell. 10-9 Pavlik.
Round Two
Pavlik pressed forward, jabbing and throwing rights. Taylor landed a few good shots and kept moving around. Pavlik landed to the body, then to the head. Taylor's speed was evident when he popped Pavlik with a big right hand. Taylor also followed with some punches below the belt and was warned by Tony Weeks, the referee. Lots of action as they traded shots, with Taylor doing some good scoring. Pavlik landed the heavier punches but Taylor excited the crowd with his faster hands. 10-9 Taylor.
Round Three
Taylor landed a jab to the body to start things. Pavlik backs him up with a combination. Pavlik sticks to his modus operandi and pops his jab and kept Taylor moving backwards. Taylor boxed, circled around and landed a hard right to the body. Taylor was beating Pavlik to the punch, landed a right hand and a left hook. Pavlik looked slowed a bit. Taylor's discipline was noteworthy. 10-9 Taylor.
Round Four
They waste little time and traded punches at center ring. Pavlik always kept his jab working and landing rights behind it. Things turned tactical as Pavlik pressed Taylor with his jab and scored at will. Taylor stepped up his jab output and landed many, followed with his right. Late in the round, Pavlik landed a right that slowed Taylor's attack. Pavlik landed harder punches as the bell rang. Both had some good moments. 10-10 Even.
Taylor's corner told him to relax. Very relaxed in his corner, Pavlik's people told him to double his jab.
Round Five
Pavlik's jab kept Taylor at bay. Taylor threw his jab but Pavlik had the better jab that landed more often. Pavlik followed up with right hands that often landed. Taylor landed a nice right that saw the sweat fly off Pavlik's head. A Pavlik right caused Taylor's nose to bleed. Pavlik scored at a high percentage as he pushed Taylor around the ring with punches. Taylor scored in spurts. Taylor rallied late and punched after the bell. 10-9 Pavlik.
Round Six
Pavlik continued to press forward with the jab. Both scored in spots. Pavlik constantly threw his jab, at one point he landed about ten in a row, all unanswered by Taylor, who conserved energy by punching less but exploding with attacks in spots that scored. Pavlik was in control. Taylor landed a hard left before the round ended. 10-9 Pavlik.
Round Seven
Taylor's eyes started to show swelling as Pavlik's jab kept finding a home there. Taylor had a few good moments, like a shoeshine to the body and showed some quality boxing skills. Pavlik kept coming forward, always working, always landing something and always pushing Taylor back. Taylor flurried to the body again and continued to punch after the bell—again.
10-9 Pavlik.
Round Eight
It was more of the same as Pavlik pressed his jab and Taylor circled around him, throwing shots when he could and managed to land a nice left hook. Pavlik kept punching. Pavlik scored the stronger punches and consistently kept Taylor moving backwards. Pavlik nose was bloodied from a Taylor left hook. Taylor landed a big right and Pavlik blocked the rest and as they clinched, both landed at the bell. Close, but Pavlik did more damage. 10-9 Pavlik.
Pavlik's corner told him not to shake hands anymore. Taylor's corner worked on his swelling cheeks and eyes.
Round Nine
More of the same, with Pavlik pressing and Taylor, getting pushed backwards. Taylor landed a nice right that stung Pavlik but Pavlik came right back at him with jabs and combinations. Taylor landed another left hook. Pavlik kept hammering his jab into Taylor's face, his eyes getting smaller with each shot. Pavlik never let Taylor change the tempo. With basic boxing fundamentals, he kept the momentum in his favor and didn't let Taylor land enough punches to steal the round. 10-9 Pavlik.
Round Ten
Virgin territory for Pavlik, who never fought past nine rounds. They boxed at a more measured pace early. They both had to be a bit tired by this point but neither showed signs of fatigue. Pavlik's efficient jab was the story of the fight so far. Taylor landed a hard overhand right, the crowd erupted with cheers. Pavlik returned with a hard, short punch inside. Taylor got busy late and landed good shots with enough intensity to take the round. 10-9 Taylor.
Round Eleven
They traded punches at center ring. Taylor had the faster hands. Taylor landed some nice distance shots, like a hook from down-under that snapped Pavlik's head back. Pavlik's jab constantly broke through Taylor's guard. Taylor double jabbed to the body. Pavlik landed a right. Pavlik goes back to his jab and finally caught Taylor against the ropes. Taylor was disciplined enough to stay away from the ropes just about the whole fight, but when he ended up there, Pavlik hurt him. Pavlik landed a vicious body shot and kept punching as Taylor held him for the final seconds of the round. 10-9 Pavlik.
Taylor's corner worked his swellings. Pavlik's corner told him he needed a knockdown.
Round Twelve
They went at it and both scored in spots, Taylor landed a big right. Pavlik cinched. Pavlik landed his jab into Taylor's face. Pavlik opened up with some combos and showed great stamina. Taylor landed a left hook. Pavlik continued to punish Taylor's face with a stinging jab. Pavlik to the body, Pavlik to the face. Taylor shoe-shined to the body. They brawled and clinched and with only seconds left, Taylor held onto Pavlik until the bell rang to end it. Pavlik looked disappointed at not being able to land anything in the final seconds but he definitely won the last round. 10-9 Pavlik.
They embraced at center ring and the mutual respect was obvious.
The Official scores were 117-111, 116-112 and 115-113, all for Kelly Pavlik.
* *
Congratulations to Kelly Pavlik, who remains unbeaten and improved his record to 33-0. He will go back to fighting at 160, where he'll defend his titles. Now that Pavlik has beaten Taylor twice, Miranda by KO and everyone else he's ever fought as a pro, who is next? IBF champion Arthur Abraham immediately comes to mind as does WBA Titleist Felix Sturm, who's slated to fight in early April. It would be great if Pavlik could fight the other title holders and consolidate the Middleweight Titles into ONE true Champion. Since the other title holders probably won't be available for political reasons, he might try to get a fight with Winky Wright, who is an excellent boxer. Pavlik is very strong and technically sound. I can't see anyone really taking his crown away anytime soon.
Congratulations also to Jermain Taylor, who fought a hell of a fight, gave everything he had and showed some real improvements in his game. It seems Pavlik is a bit too much for Taylor right now but if he plans on continuing to fight, which he absolutely should! He should consider going after Abraham himself. If he can beat Abraham, he'd have a new title and a legitimate reason to challenge Pavlik again. However, it seems that Taylor will move up to the 168 pound division, where he might rediscover success. Who knows, he may even be able to sign a fight with Joe Calzaghe, who would then have an excellent reason to come fight here in the USA. Whatever he does, I wish him well.
* * *
Comments can be emailed to dshark87@hotmail.com