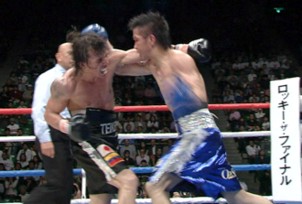 27.11.07 – By David Janke: Edwin Valero is known only to the most die-hard boxing fans. Although he is a top-ten ranked junior lightweight by The Ring magazine, he fights on the fringe of notoriety as far as US boxing fans are concerned. The fact that he is unable to fight in the United States does not help. But those fans and insiders who have seen Edwin Valero fight know exactly who he is, and what he is capable of becoming as a boxer. Those who are familiar with Valero realize that this guy might be something special.
Dinamita
Valero is nicknamed "Dinamita," or "Dynamite." He does hold an alphabet belt – he is currently the WBA Super Featherweight Champion. Originally from Venezuela, Valero currently lives and fights out of Tokyo. His claim to fame is the fact that his first 19 professional bouts were all knockouts – in the first round. (To this day, he still maintains a 100% knockout ratio; a few opponents somehow ventured past round one.)
Threat to Pacquiao
During the Pacquiao-Barrera post fight press conference at Mandalay Bay in October, Barrera was asked by a reporter who he felt could defeat Pacquiao. His initial response was only one word: "Valero." After shaking hands, Valero issued a challenge to Pacquiao using Barrera's microphone. Although the challenge didn't seem to be taken too seriously by those in attendance, the foundation for Pacquiao-Valero might have been set that night. (Joan Guzman similarly called to Pacquiao from the crowd just minutes earlier – challenging Manny Pacquiao to fight seems to be very popular these days.)
The proposition mentioned by Valero in October was not the first he publicly made. In January of this year after defeating Michael Lozada in little over one minute, Valero went on record and challenged Pacquiao. To writers and fans alike, Pacquiao-Valero represents an intriguing match-up, although most want to see Pacquiao's rematch Juan Manual Marquez first.
Valero's general anonymity in the US could be one of the main reasons Camp Pacquiao (Promoter Bob Arum and Trainer Freddie Roach) might not be keen on a match-up: Valero represents a high risk-low reward proposition. Valero does not have the established name to draw enough pay-per-view buys to support the fight financially.
Doug Fischer's "Son"
One man knew about Edwin Valero before anyone else. Doug Fischer is a respected boxing writer, and he is seen by many as the discoverer of Valero. In fact, Fischer's readers jokingly refer to Valero as his "son" (Fischer included). In December 2003, Fischer stumbled across this raw prospect sporting an 11-0 (11) record at the time. Fischer chronicled Valero's ascent from prospect to genuine contender over the past few years and described the young knockout artist as a fusion between two other fighters when they were only prospects: "Seeing Valero train…reminded me of watching Shane Mosley workout at the L.A. Boxing Club in the mid-to-late '90s. Seeing Valero fight…was reminiscent of witnessing Diego Corrales crush tough journeymen at the Grand Olympic Auditorium in '98."
#5 Ranked Junior Lightweight by Ring Magazine
The January 2008 issue of The Ring magazine ranked Valero as the #5 challenger in the Junior Lightweight division behind Manny Pacquiao, Juan Manuel Marquez, Marco Antonio Barrera, and Joan Guzman. By any critic's standards, Valero ranks among the very best. (Valero has been moved up one spot in the current Ring online rankings (http://www.thering-online.com/ringpages/ratings2.html) due to Barrera's retirement.) In the same issue of The Ring, Valero – described as a "raw puncher" – is ranked the #50 best pound for pound fighter in the world. He was ranked #57 last year.
Boxing License
Valero is unable to obtain a boxing license fight in the United States because of a failed MRI. He was involved in a motorcycle accident when he was 20 and was not wearing a helmet. A CAT scan taken after the MRI confirmed that he suffered previous brain trauma.
Next Fight
Currently holding a 22-0 (22) record, Edwin Valero's next scheduled fight is to take place December 15th on a small pay per view card against Juan Carlos Salgado. The fight will take place in Cancun, Mexico. This will be a chance for many boxing fans in the US to watch him fight and decide whether or not Barrera was right: Valero could be the man to defeat Manny Pacquiao.
Boxing fans who love heavy handed punchers will be in for a treat watching Valero fight next month (for a small entry fee). On the flip side of the coin, the odds of watching Valero fight for more than three minutes are somewhere between slim and none. But those three minutes should not disappoint. To best answer the question, "Who is Edwin Valero," simply watch his next fight. You'll learn more about who he is by watching him fight than reading about him in an article.