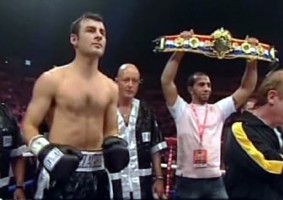 24.11.07 – By Andrew Wake: Undisputed Super Middleweight champion Joe Calzaghe has today (24/11/07) reacted to Nazim Richardson's claim that his man, Bernard Hopkins, should duck the unbeaten Welshman and instead face the winner of the upcoming Roy Jones v Felix Trinidad bout.
Joe has been chasing a fight with the 43 year old former Middleweight king for years and when Hopkins called out Joe and talked of his desire to fight at New York's Yankee Stadium, in an interview after he beat Ronald "Winky" Wright, it seemed the match up might eventually be possible. But recent events and the comments made by Richardson, have cast a huge doubt on what would be a mega fight for fans on both sides of the Atlantic..
"I feel quite angry that they've said fighting the winner of Roy Jones v Felix Trinidad is bigger than fighting me," Joe said, "Jones has been knocked out three times and Trinidad keeps retiring, so how they think that's a bigger fight I don't know. I think Hopkins's trainer is just scared his man will lose.
"I throw a thousand punches a fight. I'm younger and fitter and I can't see how he can possibly beat me. I think his people know that.
"He (Hopkins) chickened out of a fight with me six years ago and it seems he's doing it again."
In a recent interview Bernard Hopkins declared himself a legend and wrongly claimed that Calzaghe is a fighter that has never fought outside of his home country. When asked about this false claim, Joe replied "He doesn't really know his geography. He thinks I'm English.
"I've fought outside Wales most of my career. When a Welsh fighter fights in England, like I did at the beginning of career it's the same as being a foreigner and I've had some very bad receptions. When I boxed Mark Delaney in the Royal Albert Hall I was spat at several times by Delaney fans! And an equally hostile reception was when I boxed against David Starie and Robin Reid in their backyard! When has Hopkins boxed outside his own country?
"Hopkins thinks I won't fight him in America but if he wants I'll fight him in his home town in his mother's back yard! I'll fight Hopkins anywhere and I'll batter him.
"Hopkins says he's a legend and he wants to fight the best but he's lost twice to Jermain Taylor and his biggest wins have come against Welterweights."
I asked Joe about the possibility of a fight with Sheffield's IBF Light Heavyweight champion Clinton Woods and Joe stated "Woods is a possibility. He's a pretty good fighter and he's a genuine world champion but my mind is set on Hopkins".
"If I was to fight Clinton Woods it would only be so I could fulfil my dream of becoming a two weight champion".
"Woods is game and strong and it would be interesting for as long as it goes on but in the end I'd smash him up".
"Before my business as a World Champion Boxer is done I want the scalps of the biggest names, Woods isn't a big name but Hopkins is. He's a pay per view fighter in the States, he's a ring champion and greatly respected by the Americans and that's what I want. As long as Hopkins doesn't turn yellow and run like a coward again this fight could happen.
He added, "Mikkel Kessler is a better fighter than Bernard Hopkins. Hopkins is just a name that would look good on my resume."
American TV giant HBO have been impressed with Joe's recent performances – particularly his unanimous victory over Mikkel Kessler – and would back the fight but Hopkins is notorious for being a difficult negotiator and in the past has priced himself out of contests with Roy Jones (when Jones was in his prime) and James Toney, as well as the Unbeaten, Undisputed Newbridge southpaw. However, Joe is still confident the fight can be made and would like the world to know that Bernard Hopkins is the man he wants.
Article written by Andrew Wake for www.joecalzaghe.com