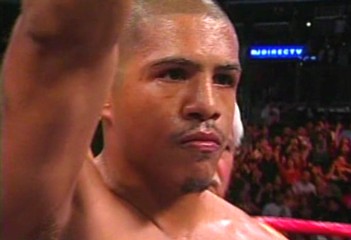 24.11.07 – Matthew Hurley: In an exciting brawl at the Staples Center in Los Angeles, California, Ricardo Mayorga, 29-6-1 with 22 KOs scored a majority decision over Fernando Vargas, 26-5 with 22 KOs.
Mayorga started strong in the first round with a wild barrage of punches that kept Vargas on his back foot. As the round progressed Vargas's legs looked a little shaky and a combination ending with a left hook to the body put Fernando on the canvas. Vargas rose, clear eyed, but his legs still looked wobbly and his punches seemed slow.
In the second round Mayorga again attacked Vargas with winging punches, wobbling him a second time, but Vargas began to measure his opponent. Fernando achieved greater success in the third round, concentrating on overhand rights and raised his hands overhead at the bell, as did Mayorga. But he also suffered a cut over the left eye. Vargas continued to get back in the fight in the fourth round with body shots and that stiff overhand right.
In the fifth round Mayorga concentrated on Vargas's body, but Vargas was again able to counter with overhand rights. However Mayorga's greater punch output won him the round.
In the seventh round Mayorga again busted open the cut over Vargas's left eye. His attack however became more measured, less reckless. As the later rounds continued Ricardo began bouncing on his toes and he took the eighth round. He also landed a right cross after the bell that led to a rather unexpected show of respect at the start of the ninth round when both fighters nodded at each other and touched gloves. That ninth round also turned into one of the most exciting of the fight as Vargas would come on and then Mayorga would come back. Both men raised their hands at the bell and the fight was still very much up for grabs.
Then in the final seconds of the eleventh round Mayorga dropped Vargas with a right hand out of the blue. It was a round that Vargas was winning but in the final analysis of his career it may also come to be yet another measuring stick of both his stature in boxing and of his bravery. Dropped for a second time he did what he always did, he got up, but victory seemed just out of reach. The twelfth round was fought evenly and could have gone either way but by that time those two knockdowns would prove to be the deciding factor.
In a majority decision, the judges voted 113-113, 114-112 and 115-111 for Ricardo Mayorga.
"I fought for my family," said Mayorga, after the decision was announced. "I worked on the gym, my discipline and control and I was able to do it in this fight."
"I take nothing against Ricardo," a quiet, but appreciative Vargas said. "He was a tough guy. I thought he would be wilder. Unfortunately that wasn't the case. I take nothing away from him. He had a better night. It's my last fight. Thank you very much."
Fighting on the undercard IBF welterweight champion Kermit Cintron, 29-1 with 27 KOs had his hands full with a very game Jesse Feliciano, 15-6-3 with 9 KOs. After a good opening round for Cintron in which he landed several good straight right hands behind a stiff left jab, Feliciano began to crowd Cintron on the inside, pushing his punches but keeping busy and taking everything the champion could dish out. Cintron found several openings for a crisp left hook but Feliciano walked through them and engaged the power punching Cintron for all three minutes of every round.
As the fight approached the mid-point Cintron's energy level seemed to be dropping a bit and his game plan of slinging power shots at his opponent's head were paying little dividends – Feliciano just kept coming and began connecting with his own right uppercuts.
Going into the seventh round Cintron's trainer Emanuel Steward told his fighter that, "You may be behind on points. You may be losing the championship. You've got to start boxing." It was motivational speak because Cintron was winning the fight with his crisper punches but it seemed neither fighter nor trainer anticipated such a spirited battle.
Cintron tried to start boxing in the ninth round, landing a few crisp jabs and several wicked power punches but Feliciano kept coming forward and Kermit kept falling into Feliciano's inside game. Feliciano's punches were not of the devastating variety but they were scoring points, taxing Cintron physically and gaining the respect of both the crowd and Cintron's worried trainer.
At the end of the ninth round Feliciano pulled out his mouthpiece and followed Cintron back to his corner.
"I was just messing with him," he told referee Jon Schorle after a warning before the tenth round.
At the bell Cintron, apparently angry with Feliciano, opened up and finally stopped the game challenger at 1:53 of the tenth round with a multi-punch combination. Ironically, Cintron then dropped to the canvas in celebration and suddenly began rolling around in agony, complaining about an injured right hand.
"Jesse fought a helluva fight," a reserved Cintron said afterward. "When I threw a one-two in the first round I heard the right hand crack. He fought great. I didn't. I tried to fight him on the inside but I didn't fight a good fight. He was just a real tough kid. I just have to go back to the drawing board, watch this fight, I went ten tough rounds, and go on."
Cintron is scheduled to partially unify the welterweight title against Paul Williams on February 2nd, 2008.
Also fighting on the undercard Roman Karmazin, 36-2-1-1 ND with 23 KOs, knocked out Alejandro Garcia, 25-3 with 24 KOs at 1:24 of the third round with a beautiful three-punch combination. Karmazin hurt Garcia to the body with a left hook early in the first round, dropping him to one knee. After a better second round for Garcia, Karmazin went back to the body crippling him with another left hook and then sending him to the canvas with an overhand right.