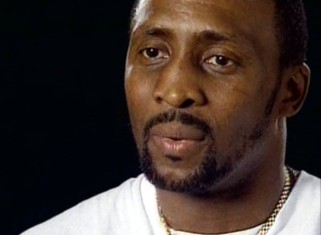 23.11.07 – By James Slater: This weekend, two fighters many people are calling pretty much close to shot, or at the very least far removed from what they once were – in Fernando Vargas and Ricardo Mayorga – meet in a crossroads battle. Though both men will likely put on a show that will entertain the fans that love nothing more than a good toe-to-toe slugfest, the reality is both guys should've hung 'em up by now – "El Feroz" especially.
Instead, in a fight that could well be detrimental to their health, Vargas and Mayorga are hours away from climbing into a boxing ring with one another and then attempting to destroy each other. Whoever wins and whoever loses, both guys may well wind up badly hurt, for that's what can happen when two past their best, shop-worn former talents insist on carrying on with their careers as prize fighters. Hopefully, both Fernando and Ricardo will escape relatively unhurt after their bout at The Staples Centre, L.A.
As said above, tomorrow's brawl will more than likely entertain, but is it worth the risk for the two warriors involved? To my mind, one fight in particular stands out as an overwhelming and vivid example of what can happen when a formerly exceptional talent refuses to end his boxing days while still on top. The legendary Thomas Hearns, no less, is the great involved in this very fight. Once a multi-weight champion, Tommy insisted on attempting to win yet more fights in the mid -90's – when aged over 35 and after having engaged in some brutal fights. Neither Vargas or Mayorga have ever been anywhere near as great as Hearns was, but the proof of what can happen to fighters when they refuse to quit and fight on when vastly diminished in the skills department, is shown most succinctly in a Hearns fight. Tommy's match-up with the limited club fighter, Freddie Delgado is the fight in question, and though it provided fireworks, the contest was a sad one to watch. As are all bouts involving a once young and formidable boxer, who fights on while attempting to recapture that youth when nothing but a shell of his former self.
Initially, Tommy's February 1994 fight with Freddie Delgado looked like being a straightforward and easy victory for "The Hitman." As things transpired, this was far from the case. Hearns decked the Puerto Rican with a perfect right hand in the opening session and it looked as though he would register three first round KO's in a row at his new weight of cruiserweight – the other two coming in earlier fights, against the duo of Andrew Maynard and Dan Ward. But Delgado did something that not too many of "The Hitman's" opponents had been able to do, namely get back up before ten seconds were counted after absorbing his trademark punch. Delgado had yet more shocks in store. In the very next round it was Hearns' turn to hit the canvas. Nobody expected this, and now a fierce struggle in toe-to-toe action was the order of the day.
For the remainder of the bout Tommy fought in effective bursts only. For long periods his back was stuck to the ropes. He tried getting up on his toes and boxing but couldn't sustain such tactics for very long. He was looking tired and was really having to work hard. His heart was as massive as ever (always a danger for a fighter whose skills have diminished) but it needed to be because he was taking an alarming amount of punishment from his club fighting, journeyman opponent. Freddie was tough, no doubt, but a peak Hearns would have left him where he put him in the opening round and been back in the dressing room by now. By round six, Tommy was being backed up almost constantly and he concentrated his efforts on Delgado's body, winging some vicious shots to his ribs. Neither man was anywhere near fresh now and the battle of attrition had the look of one that could go either way.
By the eighth, the right side of Tommy's face was showing some swelling and it was obvious to all that, whatever the outcome, after this one he would have to do some serious soul searching. This had turned into one of the hardest fights of his life! His age eroded skills could take the credit for this. In the latter stages Hearns was still throwing punches, mostly snapping left jabs, in an effort to pull out the rounds. But Delgado was still there, driving himself forwards in the twelfth and final round. Most of the evening's warfare had taken place on the inside, but in this last three minutes Tommy gave it one more go at boxing and moving. This won him the session, and at the bell both men embraced. Serious damage had been sustained by the two of them and exhaustion plagued the fighters as they awaited the reading of the scorecards. Tommy got a unanimous decision. He had won but hadn't looked anywhere near good. In fact, he'd looked dreadful.
It was a sad spectacle for any real fan of Thomas Hearns. Indeed, after this bout, anyone considering themselves to be such a thing would forever refrain from tuning in to see their idol putting himself at further serious risk while tarnishing his image in the process. As stated earlier, this fight was a perfect example of what can happen if a fighter sticks around in his sport too long. For though Hearns-Delgado may have entertained (in a very crude manner, anyway, such was the obvious lack of skill involved) it was almost heartbreaking to watch for a fan of Hearns. Anyone who could remember how superb Tommy was in his prime was surely cringing when watching their hero digging deep against Delgado.
Now both Fernando Vargas and Ricardo Mayorga, though neither was ever as special as Hearns was, run the risk of winding up in the exact same embarrassing position tomorrow night in L.A. It can be a very painful and demeaning experience trying to fight like you used to, only to find out, mid-ring, that it's just not there any more. It's too late now, but Vargas and Mayorga might have second thoughts once the action sees the middle rounds tomorrow evening. You can bet Tommy did by around round five of his hellish night with Delgado.