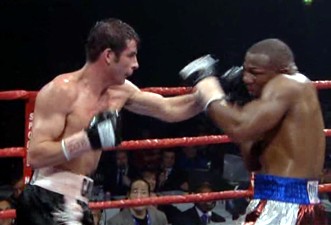 Carl Froch is calling on Joe Calzaghe to fight him after his world title bout with Mikkel Kessler on Saturday. 'The Cobra' defends his British Super-Middleweight Title for the fourth time against former world champion Reid Reid at the Nottingham Arena on a Hennessy Sports show with title partners GoldenPalace.net on November 9. Sky Sports will televise live.
Undefeated Froch wants to face the winner of the fight for Calzaghe's World Boxing Organization Title and Kessler's World Boxing Association and WBC Titles.
Froch is aiming to show the boxing world who the real number one in the super-middleweight division is the weekend after world champions Calzaghe and Kessler box in Cardiff, Wales.
"I've been a big Joe Calzaghe fan over the years but have not been impressed by the way he doesn't want to fight me," said Froch.
"I think Joe Calzaghe should fight me really. He has had a couple of really soft voluntary defences rather than fighting me and I've got the hump with him over it.
"Okay, Kessler is a good fight, but he says he wants only big fights now and fighting me would be just that. There would be huge interest in Britain for it.
"I want Joe to win, and I think he will. But it's probably better for me that Kessler wins, because then I'm more likely to get a world title fight quicker.
"I've been ranked in the WBC top three for the last year now and am due a shot at the title. But Joe has not wanted to fight me yet and is now talking about stepping up a division.
"If Joe loses and I fight Kessler and beat him, I can say I beat the man who beat the man. People won't be able to say Joe would have beaten me then."
Froch tips Calzaghe to out-point Kessler, although the 'Cobra' sees it as a risky fight for his fellow British super-middleweight.
"It's a difficult fight to call," said Froch. "Joe can be caught because he is getting vulnerable. Anything can happen, but when Joe is under pressure he rises to the occasion.
"I think Joe will do what he has to do to win on points. But if he gets knocked out, he will probably have to retire. He is talking about big fights in America, but he will not get any of those if he gets stopped by Kessler. You have to give Joe respect for taking the fight – it's no formality."
Hennessy Sports in association with GoldenPalace.net Proudly Present FROCH VS REID @ NOTTINGHAM ICE ARENA Friday 9th NOVEMBER 2007.
Doors 6pm, Boxing Starts 6.30pm.
Ticket Prices:
£25 Unreserved Tiered & Reserved Floor
£30 Premium Tiered
£75 Outer Ringside
£125 Ringside
For Tickets:
Call the Box Office on: 0870 121 0123
Book via the web: www.nottingham-arena.com
*******************************************
Carl Froch (Nottingham) vs Robin Reid (Runcorn)
12 x 3 – British Super Middleweight Title
*******************************************
John Murray (Manchester) vs Dean Hickman (West Bromwich) 10 x 3 – English Lightweight / WBC Youth Titles.
Esham Pickering (Newark) vs Sean Hughes (Pontefract)
8 x 3 Super Bantamweight
Adnan Amar (Nottingham) vs Darren Gethin (Walsall) 10 x 3 Midlands Area Welterweight Title
Paul David (Sheffield) vs Michael Monaghan (Nottingham) 10 x 3 – Midlands Area Super Middleweight Title
Andrew Singh Kooner (Birmingham/ Toronto Canada) vs Andy Bell (Nottingham)
8 x 3 – Bantamweight
Amir Unsworth (Warrington) vs Leonard Lothian (Northampton)
4 x 3 – Light Welterweight
Kelly Oliver (Lincoln) vs TBA
4 x 3 Cruiser Weight
Tyrone Wright (Nottingham) vs Simeon Cover (Worksop)
4×3 Cruiser Weight
Rod Anderton (Nottingham) vs TBA
4 x 3 Light Heavyweight