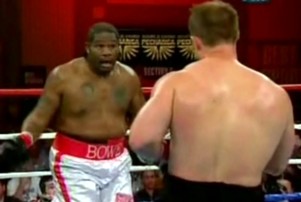 31.08.07 – By Per-Åke Persson: Undefeated Ukrainian lightheavy Vyacheslav Uzelkov, 16-0, takes on American veteran Eric Harding, 23-4-1, September 13 in Kiev with the vacant WBA I/C title at stake. The touted Uzelkov, already EE-EU boxing champ, is in for the toughest test of his career in Harding who over the years have fought some of the best in the world.
The co-feature to this National Boxing Promotion feature EE-EU jr middle ruler Ivan Gontsa in a defence against Roman Dzuman. NBP´s prospects such as cruiser Vitalyi Rusal, welter Valery Brazhnik and jr light Sergey Fedchenko make up the undercard.
Ex-WBO heavy boxing champ Herbie Hide will fight again September 21 in Luebeck. Hide, who just turned 36, is down the road eyeing a showdown with EU ruler Giacobbe Fragomeni.
After some turmoil with the Cuban talents in Germany Yuriorkis Gamboa will be the country´s sole representative in Berlin September 2 when he takes on Austrian Thomas Hengstberger at "catchweight". Thomas weighed in at middleweight for his last fight while Gamboa should be around lightweight.
Mandatory challenger for newly crowned EBU superbantam champ Kiko Martinez is British titleholder Esham Pickering.
EBU middle champ Sebastian Sylvester´s rumored voluntary defence against Italian Simone Rotolo is now announced as on by the EBU and goes ahead October 27 in Erfurt.
Should he be allowed to fight or shouldn´t he? The conflict between members of the Swedish Boxing Federation in regards on ex-heavy champ Riddick Bowe´s participation in Pugnus Boxing Promotion´s show September 15 in Karlstad billed as "Night of the Champions" is out in the open. Board member Christer Franzén feels strongly that Bowe shouldn't be allowed to fight. The Pro Boxing Commission have made the stand that if Bowe pass all medical tests he should be allowed to fight. Bowe will take on Russian Daniel Peret, a decent have gloves, will travel, journeyman in a four rounder. But the question most boxing fans ask is why have him at all? Bowe was at one time a bright star, a true champ – today he is not.