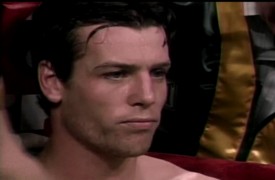 NEW YORK CITY (July 30, 2007) – Prodigal son John Duddy triumphantly returned to the Emerald Isle for his first pro boxing fight there, stopping Alessio Furlan (19-9-5) in the 10th round of their July 14th bout, picked-up a few stitches in the process, and showed improvement working with his new head trainer, Don Turner.
Derry City, Northern Ireland-native Duddy (21-0, 16 KO's), now fighting out of Queens (NY), also continued his mission to become only the third Irish-born middleweight to capture a major world boxing title at 160 pounds, joining "Nonpareil" Jack Dempsey (real name John Kelly) and Stevie "Celtic Warrior" Collins. Dempsey, who was from County Kildare but also fought out of New York City, was the world middleweight champion from 1884 to 1891. Dublin's Collins won the WBO 160-pound title in 1994 and them moved up to super middleweight.
Duddy, who fought many times as an amateur in Ireland, always wanted to fight there as a pro. It became a reality on July 14 and the experience couldn't have been better for the fighter known in the U.S. as "Ireland's" John Duddy, but as the "Derry Destroyer" back home.
"It was a great experience for me," Duddy said from his home in Queens. "The reception I received at home proved to me that, I had made at in America, but I still hadn't fought in Ireland, and I really wanted their support, too. Everybody was so supportive. I can't compare fighting at Madison Square Garden and in Ireland. I'm looking forward to hopefully experience more at both places.
"The people in New York City don't really know me but they've watched and supported me. Back home they know me and I was glad to see people who've know me since I was a boy – friends, neighbors and teachers. Before they had great respect for me and now the same people are asking for my autograph. I had a ball."
Turner has trained 19 world champions including Evander Holyfield, Larry Holmes, Aaron Pryor and Mike McCallum. He and Duddy only had four weeks working together for the fight against Furlan.
"There were a lot of circumstances leading up to my last fight," Duddy explained. "I had changed coaches and the added pressure of fighting in Ireland for the first time as a pro. There were many factors but nobody left the fight, or after watching on TV, feeling unhappy. I think people saw some slight changes. I made some of the same mistakes but I did show some of the things Turner had been working on with me. I'm capable of learning what Don's teaching me and everyone will see more improvement. This was just the tip of the iceberg in our partnership. I know what he wants and he believes I'll learn it. Unfortunately, we only had four weeks working together before this fight. I used my head more, maybe too much at times, thinking about what Don had taught me, instead of just letting go. I look forward to getting back in the gym with Don."
Duddy, reigning IBA and WBC Continental Americas champion, is now rated in the top 10 of all four major boxing organizations: WBO No. 6, WBA No. 9, IBF and WBC No. 10. He will soon briefly go back home to attend his best friend James Moore's wedding, then return to New York and head back to training camp in the Pocono Mountains with Turner.
The cut he suffered above his left high forced the shifting of his next scheduled fight from August 26 to probably October 6 in Belfast. "When and who I fight are out of my hands," Duddy remarked. "That's left to my promoter (Irish Ropes) and manager (McLoughlin Brothers). I just keep fit. Dates and opponents often change in boxing and, at the end of the day; I've got to be ready to fight. I'm looking forward to my next fight.
"Circumstances, health wise, have changed the scheduled date. Cuts are part and parcel with the game. Cuts come with the job. I was actually cut three times in the last fight; all by head butts, but cutting isn't a problem for me. The fight before that, I had a small nick (against Dupre Strickland), and I came out of the fight against (Anthony) Bonsante without any cuts. I have 'Big George' (Mitchell) in my corner and he does a fantastic job. After the fourth round there was no mention of my cuts, just the fight."
The MSG premiere airing of Duddy-Furlan is scheduled for August 11 at 8:00 PM/ET.
For more information about John Duddy or Irish Ropes Promotions go on line to www.irishropes.com.