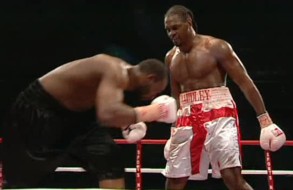 22.07.07 – By Jonny Oakley: Expectation, it can be said, is the historical ailment of boxing. In a traditional right of passage, convention dictates that a challenger successfully achieves status as champion only after mounting a legitimate campaign, loaded with genuine intention, to emphatically dethrone the current ruler. This is not expected to be the defining performance of one's career, but the commencement of a long reign of successful defences, where successful is taken to mean convincing enough to merit one's assumed moniker, 'champion of the world'.
Over a hundred years of boxing history testifies that our greatest champions have been at times both despotic and revolutionary. Despotic in defending their reign – Joe Louis proudly recorded 25 successful defences, while Larry Holmes has 20 defences, as does Bernard Hopkins.
Revolutionary in reclaiming what is rightfully theirs – Muhammad Ali is a three time champion; inveterate warrior Evander Holyfield has possessed the firepower to stage four successful Heavyweight coups, and today delves deep into his revolutionary conscience in search of a fifth.
Fulfilment, then, is symptomatic of this ailment. For any pugilist with aspirations to rightfully place himself in the historical context of the sport, a constant pressure exists upon him to fulfil the achievements and live up to the characteristics of those who have occupied this place prior to his arrival on the scene. The current failure to do so on the part of British boxing as a whole is a graphic and fundamental illustration of how gravely ill the sport is on our islands today. Notable exceptions exist – Joe Calzaghe is the epitome of exceptional. He has paws more rapid than a cheetah's, landing them on his prey with great frequency. With an upcoming unification bout against Danish foe Mikkel Kessler, the tattoo artists' practice sheet, Calzaghe seeks to confound those critics whose accusations of soft matchmaking, not without justification, hamper his emergence as a legitimate great. Ricky Hatton is mobile, strong, and tougher than Tibetan yak meat, with several world titles to his credit. He is currently considered the top ticket at light-welterweight, although he is no certainty to triumph in the final ascent to the summit of his Everest, where his fellow burgeoning superstars await.
Evidence is plentiful that British boxing suffers this ailment, the symptoms compounded by other forces at work. Let us attempt to procure an accurate diagnosis.
The Great Escape:
Frank Warren claims, in an article on his website, that some terrestrial television broadcasters lack commitment to programme boxing – 'The BBC got their fingers burned' – and makes a valid point. Having now vanished into oblivion, 'invisible' Audley is almost solely accountable for this fate where the BBC is concerned. After winning Olympic gold, the BBC rushed into signing Audley Harrison on a ten-fight, million pound giveaway. Risible performances in losing to Danny Williams and Dominic Guinn as well as a knockout loss to Michael Sprott ruined Harrison's career and public opinion of it. Political forces responsible for motivating so many great champions are now restrained by popular conscience and politics now exercises but a fraction of its previous intrusion into boxing. Good job, as Harrison's self promotional efforts and broken promises of global glory would have made him a shoe-in for the green benches of Westminster. Still, The BBC's boxing diet failed to provide our basic nutritional requirements. We expected a feature presentation of King Kong, powering through the division and leaving destruction in his thrilling wake. Instead, we got a strangely comic mini-series, and now we want our money back. So, one suspects, does the BBC. Sprott went some way to redeeming British boxing by ending the Harrison saga. We all like to laugh when someone smites our fool, like a swindled business man watching the police cart away his company's fraudster. Harrison should be humbled, humiliated. But he isn't. At least a part of him is laughing too, all the way to the bank.
The Great Train Robbery:
Hear that? That's the Khan camp sounding the horn on the young Bolton fighter's gravy train. With a hundred tonnes of hype in tow, it took almost a mile to stop this locomotive. Assuming, that is, one had seen the impending obstruction a mile ahead, a difficult proposition when travelling at the same velocity as Khan's career. Insatiable eagerness and consistent media presence has transformed a confident young prospect into an arrogant prodigy. The same forces unload him one station too early, alighting from the gravy train in a remote Scottish outpost. Using the element of absolutely no surprise at all, an impish Scot whacks him round the head with a big stick. So a check-up for Khan, as well as British boxing, is in order! The diagnosis of Khan's performance: chin check, reality check, pay cheque – Khan appears to have taken all three, in climbing off the canvas on route to an eight round stoppage win for the Commonwealth lightweight title, with courage and requisite attentiveness. Cured? Expect a convincing win next time out. Indeed, ITV has deemed Khan to be the sole British boxer suitable for broadcast on terrestrial television. Sensibly, Hatton gave up long ago and is now plying his trade in the US; Warren has understandably signed a deal with Setanta Sports, a subscription channel, allowing them to broadcast the next Calzaghe contest, and as for the current heavyweight carousel…
The Greatest Show on Earth:
…Now who cares? Harrison, Williams, Skelton, Sprott – hardly the fabulous four. After the truly atrocious spectacle masquerading as what is hopefully a final instalment of the debacle, all credibility has evaporated. Matt Skelton at least came prepared to fight, but Michael Sprott's punch output was 'economical' in the extreme. Most of the paying spectators were comatose by the tenth, and those still watching, one can only assume out of desperation to get their money's worth, booed heartily. More punches have been thrown over the digestive biscuits and Battenberg at local village meetings. Sprott attacked with the sincerity and conviction of a time-served death row prisoner embarking on an institution health and fitness programme, and with a frequency comparable to the appearance of Haley's comet. Still, his defence was exceptional, with an outstanding commitment to stay well out of range making Skelton's task of landing punches practically impossible. Generating a 'world' title challenge for either man would be unlikely after their woeful display. In any case, it is a certainty that any such development would be a fruitless exercise when Britain's best heavyweight hope is a 40 year-old former kick boxer.
It is our notable exceptions that should be our principal source of optimism. Calzaghe, Hatton, and potentially David Haye and Amir Khan, could begin to inspire a depth of talent. They should be ambassadors for the 2012 Olympics – an ideal opportunity to invest in our amateur boxers, and tomorrow's professionals. Exposure, coaching, and financial backing can be the cure for British boxing's ills. Let us hope we can administer them.