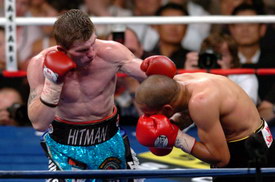 19.07.07 – By Jonny Oakley: You're Ricky Hatton, a surge of emotions in a sweat and liniment smelling dressing room, adrenaline still coursing through your veins. You have demolished a Mexican warrior held in the highest esteem in four short rounds, delivering a liver punch described by promoter Bob Arum as 'perfect'. In the midst of shower steam and celebratory embraces a nagging doubt, like a neighbor creating a late night for an early riser, occupies that special place in the back of your mind.
You must have noticed in doubling up the hook, swooping into the clinch and solidly pursuing the midriff that the guy on the receiving end can't time your advances well enough to land convincingly or evade effectively?
Your opponent tries to justify retiring on his knees to the press, and himself, declaring 'I couldn't breath. I couldn't get up.' You're Ricky Hatton…and you're asking yourself: So, what do I do now?
The trouble with Hatton is that he is still stuck in the suburbs and struggles to make the transition to the commercial city center. For a fighter who, when all is said and done, is a second tier competitor this will remain his lot. Hatton immediately singled out Floyd Mayweather for criticism in a post fight interview, baiting the American minutes after knocking out Castillo with the claim that 'there was more action in those four rounds than in Floyd Mayweather's last half dozen fights.' Mayweather responded swiftly and in kind, as one might expect, declaring that 'Ricky Hatton ain't nothing but a fat man. I'm going to punch him in his beer belly.' Hatton clearly believes that styles make fights, and that his is taylor-made for Mayweather. 'My style is his (Mayweather's) worst nightmare' he told BBC sport. A fight with Floyd Mayweather looks unlikely, however, as the look-at-me youngster of a boxing family and his ruinous egotism will harm reasonable negotiation and Hatton's venue demands, almost certainly an English soccer stadium, will kill them off entirely. Far more likely is a match up with someone of similar calibre, similarly situated. Paul Malignaggi, fresh off a classy display in relieving Lovemore Ndou of his IBF light welterweight strap, seems the most likely candidate – a talented technician but fatally flawed with brittle hands and a punch unlikely to juice a grape.
Should Mayweather sign on the dotted line, Hatton will struggle with the disparity in class. Mayweather is boxing's pound-for-pound King, and love him or hate him, he is impossible to ignore. The 'Pretty Boy' cuts the figure of an untouchable technician, and at the same time of a reluctant and standoffish combatant, often depending upon which side of the pond you're on. From the US perspective, Hatton is more boxing's pound-for-pound Prince Phillip, a uniquely British phenomenon enjoying lukewarm recognition. The blueprint of Hatton's fight plan against any future opponent is unlikely to change from that of his career to date, much less his encounter with Castillo. Despite hand and foot speed and a willingness to take it to the trenches, with unmistakable Churchillian pomp, Hatton's arsenal is too limited and he suffers by comparison against a ruler of genuine class, and consequently also against Cotto, Mosely, and perhaps even Margarito.
Our most poignant memories of Tommy Hearns, on the whole, are for his losses to Leonard and Hagler, managing only to beat Roberto Duran, past his prime and in a complete physical mismatch, in their four-cornered rivalry. Like Hearns, I fear the best Hatton can become is a torch bearer for throwback warriors, like Castillo, (although many, including myself, felt he won his first clash against Floyd Mayweather without getting the decision), who are celebrated big fight losers. Hatton wants to prove a point but lacks the smarts and the requisite intangible, the touch of class, to lead him to greatness. Wins over the Castillo's of this world cannot dispel the feeling that Hatton is destined to remain with his eyes on the prize, but never quite within touching distance.