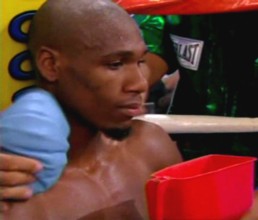 18.07.07 – By Taj "Yuma" Eubanks: There are those of us who frequent boxing website boards (Eastside Boxing boards, in this case) who take up the flags of our favorite fighters and become the standard bearers for them, especially if they are on the eve of a fight. Someone not familiar with the psychology of the hardcore boxing fan would be quite surprised by the levels of venom mustered in these discussions. Sometimes, I myself am quite surprised by the testosterone (and estrogen) on display on the boards.
What usually starts as a casual debate often devolves into name-calling, territorialism and chest-thumping, ending in one making the declaration which is the mortar upon which all late-night board battling stands, the all-important fight prediction.
For if your prediction is correct, you have earned bragging rights until the next big fight. And if your prediction is wrong (Heaven help you) you have to suffer helplessly at the hands of your foes that heap you with derision and force you to listen to "I-told-you-so" ad nauseum.
Most of our colleagues simply disappear from the boards for several months, popping out of their shells like turtles every blue moon until the eve of the next big fight. These are the cowards among us. The brave ones choose to remain, however, unwavering and admit that we were wrong. Heads held high, we keep it moving as if nothing was awry, but not before eating a healthy helping of crow soup.
Such is my current predicament as I recover from the aftermath of the Antonio Margarito-Paul Williams WBO welterweight championship scrap (which I wrongly predicted would end in a unanimous decision for the champion; there, I said it!), a match that saw the young, athletic upstart de-crown the older, rugged champ. I, like many others, figured that Margarito would be too much for the relatively inexperienced challenger. Margarito was the grizzled veteran champ with everything to gain and everything to lose. On the cusp of a lucrative Miguel Cotto fight, superstardom and riches awaited him on the other side of a victory over Williams. If he lost, his big payday prospects would vanish like a fart in a dust storm. Thus it was incumbent upon him to fight like his life depended on it. The problem was, Paul Williams had everything to gain and nothing to lose. And he fought like it.
Having only seen two of Williams' fights (against the faded Sharmba Mitchell and no-hoper Santos Pakau [who put up a helluva fight]), I was not overly impressed. After all, Sharmba Mitchell has been
over-the-hill for a minute now and Pakau, a journeyman, gave Williams more of a fight than the former world champion Mitchell did. That said, I wasn't high on Williams. Until now.
Three things were immediately remarkable about The Punisher last Saturday night. First, his conditioning was otherworldly. Margarito is also known for his volume punching, but besides Margarito, I don't know of another active fight not named Kassim Ouma that throws nearly as many punches as Williams does. With a total punch tally nearing 1200, it is obvious that this is a fighter to reckon with. In the face of the criticism that some have that Williams didn't seem to land many of these and that the ones he did land were not very powerful, I say this: Landed or not, mule kicks or pitty pats, 1200 punches per contest will not onfly impress the judges but will also become pretty painful at some point. Another problem that arises when facing a 1200-punch fighter is that you are constantly on the defensive. If a fighter finds himself spending all of his energy on defense, it becomes damned difficult to mount any kind of offense.
Second, The Punisher is much more adept at fighting tall than I gave him credit for. He kept Margarito at bay perfectly with his use of the most important punch in boxing, the jab. Margarito spent the first six rounds trying to figure out a way to get inside of Williams' reported 82-inch reach. Williams wasn't lured into the inside-fighting trap with Margarito, a nod to an underrated ring I.Q.
Finally, Williams possesses a wicked chin. The second half of the bout saw Margarito increasingly finding his range and punishing The Punisher, hurting him badly in the eleventh. Williams took Margarito's best shots (which notoriously decimated Kermit "The Killer" Cintron) and kept going about the business at hand, even coming out re-energized in the final stanza. The same Margarito onslaught would have been certain to fell many of the division's other stalwarts.
So I tender a humble apology to The Punisher for not giving him the benefit of the doubt. And while I am not yet convinced that he will defeat the division's top fighters (Mayweather, Cotto, Mosley), I am certain that he presents stylistic problems for them all that would give him one helluva shot. And as for the other fighters campaigning at 147 pounds, be forewarned: The Punisher is for real.