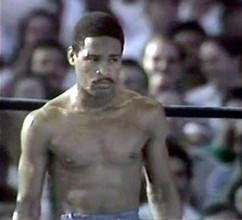 18.07.07 – By Simon Henley: It was though I was looking into the mirror. I've never been exposed to a fighter who could slide punches like this. No one. I mean no one can make me miss punches like that.
– Sugar Ray Leonard (in A Fistful of Sugar)
This under appreciated pugilist began his career at age 15. Two years later, at the age of 17, he shocked the boxing world by outboxing the legendary Colombian champion Antonio "Kid Pambele" Cervantes to become the youngest fighter ever to win a world championship (a distinction that he still holds) in 1976.
A few years later, he decisioned the popular and rugged Carlos Palomino, he of beer commercial fame, to win the welterweight title.
He later became the youngest fighter to win a world title in three different weight divisions when he knocked out Maurice Hope with a single right cross to win the junior middleweight crown.
His elusive skills confounded boxing aficionados, causing many to proclaim he had radar in his brain. Opponents were universally awed by the defensive brilliance of this counter punching phenom. Harold Weston, Jr., a clever boxer himself, called him "the best defensive fighter I ever fought." Palomino praised him as an "absolutely brilliant defensive fighter." Sugar Ray Leonard remarked incredulously that no one ever made him miss so many punches.
At times in his fights the self-proclaimed "Bible of Boxing" would engage in an unusual form of bravado reminiscent of Ali's rope-a-dope. He would purposely lie on the ropes and showcase his sheer wizardry at slipping punch after punch without firing retaliatory shots.
This defensive genius showed that boxing can occasionally live up to its often times oxymoronic moniker- "The Sweet Science." Even Joyce Carol Oates could not capture the beauty of this legend's elusiveness. You had to see it to believe it. After watching one of his finest displays, the Hall of Fame matchmaker Teddy Brenner called him "the best fighter in the world."
In arguably his greatest hour he outclassed Roberto Duran with a boxing lesson that would have turned Willie Pep green with envy and forced Pernell Whitaker to take notes. "Hands of Stone" was reduced to merely striking air. Even Duran, who never praised opponents, called him a "very good boxer" after being vanquished. In his prime he defeated everyone except for Sugar Ray Leonard and Thomas Hearns.
Who is he? Wilfred Benitez, the great Puerto Rican champion whose boxing brilliance was outmatched only by his poor training habits. Legend has it that he trained a grand total of one week before facing Leonard. Emanuel Steward, the longtime trainer of Tommy Hearns, once joked that he knew Hearns would beat Wilfred because Benitez had trained for Hearns. "It may mess him up. Training is a shock to his system", said Steward.
Unfortunately, neither Hearns nor Leonard ever gave him a rematch. Benitez repeatedly challenged Leonard, but Sugar Ray refused to face him again.
Fittingly, the youngest fighter to win a world title became the youngest fighter ever inducted into the International Boxing Hall of Fame at the age of 37 in 1996. It was his first year of eligibility.
Unfortunately, a few months after this great honor, Benitez nearly lost his life due to brain injuries. Benitez, like his idol Muhammad Ali, had stayed in the fight game too long. His skills gradually dissipated and eroded due to fast living and little training. Punches that for years were easily eluded by his wondrous skills, began to connect. A shadow of his former self, Wilfred succumbed to journeymen plodders that he would only have toyed with in his prime.
Benitez's life after boxing paralleled Ali's in another disturbing and tragic way: slurred speech and health problems. In 1986, a neurologist discovered that Benitez suffered from brain damage. Diagnosed with traumatic encephalopathy in 1989, he retired belatedly the next year. His problems continued in another all-too-familiar fight game pattern: that of a former champion, who had earned millions in the ring, reduced to poverty. Only with assistance from the Puerto Rican government was he able to survive. A government official said it was the least they could do for the man "who put Puerto Rico on the map." His problems escalated dramatically in 1996 when he slipped into a coma from which doctors feared he would never recover.
Yet, Benitez- ever the champion- finally awoke to his mother's teary eyes, whispering "God is good."
In the ring, you were much better than good, Wilfred Benitez, much better.