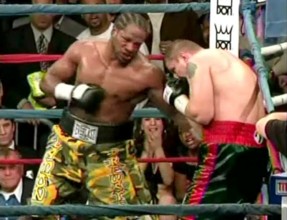 18.07.07 – By Brett Mauren: Through half empty arenas nation-wide die hard boxing fans have yet to abandon their love for the sweet science, but it is no question the casual fan's presence has decreased dramatically, posing the question: Was it ever about the boxing?
What HBO, SHOTIME, Espn2, and other telecasts have been lacking is not solid, entertaining boxing cards, it's the hype. A huge aspect of boxing for years has been the sense of glamour at ringside, and star gazing through the first few rows.
What we perceive as boxing's golden age probably ended at the beginning of the Mike Tyson downfall, along with the American heavyweight.
The fact that no heavyweight title fight has taken place in Las Vegas, Boxing's mecca, since Oleg Maskaev defeated Hasim Rahman nearly a year ago would have been considered a travesty in the Tyson era.
Perhaps location is not everything, but as Floyd Mayweather and Oscar De la hoya showed us, that if it is promoted properly people will pay for a boring fight.
If Don King had pulled a few strings, aired some commercials, and moved the 2006 matchup between Shannon Briggs and Sergei Liakovich to Las Vegas, Los Angeles, New York City, or Atlantic City perhaps the live gate along with Showtime's ratings may have been slightly higher. Nevermind the fact that the first 11 rounds were less exciting than watching corn grow, people would have left remembering nothing other than Briggs knocking Liakovich through the ropes to capture his first major world title.
To the everyday boxing fan, the excitement should never have left, but it is no secret that the hype has faded. If that was not the case the world would have awaited Corrales-Castillo 2, not De La Hoya-Mayweather. What the Boxing world could use more than anything is a story behind each fight; How about Roy Jones Jr. fights Felix Trinidad, and maybe theres a magazine ad that asks which legendary warrior still has what it takes? Or How about analysts like Larry Merchant don't totally deflate the excitement of DLH-Mayweather by calling it a disappointment before the final bell, prompting viewers to think to themselves "You know, He's right, I'm never paying for another boxing match again."
What I am stressing is that it is not hard at all to find an exciting fight a few nights a week, but what promoters need to do is have us marking these fights on our calendar, not just happening to catch them while flipping through channels. Perhaps there is not a fight that can save boxing, but there most certainly is a feeling of sorts, that just me be able to breathe some air back in, and slowly but surely bring boxing back to it's feet before the 10 count.