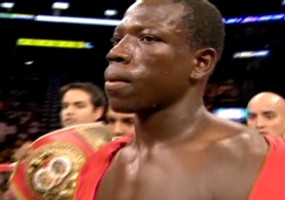 17.07.07 – By Ted Sares: Super middleweight Allan Green (24-1, 17 KOs), should not be wasting his time fighting wannabe Rhode Island gangster Peter Manfredo, Jr. His destruction of capable Darrell Woods suggests that there may well be veracity to his claims that something was not right when he duked it out with Edison "Pantera" Miranda (28 – 2, (24 KOs, in March of this year in Puerto Rico. While he claims he was bothered by a problem with his digestive system, it might be that he could not digest Columbian Panther meat on that particular evening.
Still, Green is now back in the mix, make no mistake. Miranda, savaged by Kelly Pavlik, needs to get back in the thick of things and can do just that by proving his first win over Green was no fluke. Peter Manfredo Jr., a possible future opponent for Green, is still trying to redeem himself for his dreadful performance against Joe Calzaghe. He is at a different and lower level.
A Green-Miranda winner becomes a likely candidate to fight a Calzaghe-Kessler, Wright-Hopkins, or Taylor-Pavlik winner. And with guys like Arthur Abraham, Howard Eastman, Felix Sturm, Daniel Santos and Anthony Mundine lurking, the possibilities are compelling.
These kinds of potentail matchups remind me of the days when Basilio, DeMarco, Robinson, Fullmer, Billy Graham, Johnny Saxon, Kid Gavilan, Pierre Langlois, Johnny Bratton and others too numerous to cite went about competing in their unofficial round robins. Every fight; every possibility was a great one.
Godfather walk-in theme and scary gangster hat notwithstanding (talk about stereotyping at its bile-inducing worse), Manfredo adds little or nothing to these possibilities.
Let's keep the level of competition and interest at the top. Quite frankly, aside from Alfonso Gomez, I have grown tired of Mora, Bundrage, Manfredo, Brinkley, and the rest of the reality cast.
Green-Miranda is compelling; Green-Manfredo is not.