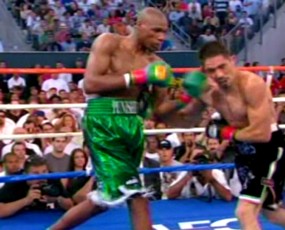 16.07.07 – By Christopher Roche:
Boxing Questions (and answers)
1) Is Paul "The Punisher" Williams the new big, bad wolf?
When I saw Paul Williams overwhelm Sharmba Mitchell in August of 2006, I knew I was watching someone special. I did not plan on writing about that fight, but Williams' performance launched me to the keyboard. In that fight report, which appeared on brickcityboxing.com, I took the liberty of editorializing a tad. I wrote, "Williams made a claim for the future best pound for pound titleholder, as he dazzled Mitchell with an impressive array of straight left hands and right hooks. " Most observers probably thought I was crazy, especially since I am not a proficient prognosticator, but Williams clearly showed me something extraordinary.
I followed up my report of August 2006 with a prediction in December of last year. I predicted that Williams would be the fighter of the year in 2007. Because Williams has only fought once this year, he is unlikely to garner fighter of the year honors, however, "The Punisher" is certainly claiming his place among the division's best. Williams' physical gifts and tenacious style make him very difficult to beat. He is not a master technician like Floyd Mayweather, and he does not punch as hard as someone like Felix Trinidad, but he is a huge welterweight who is all action. Rarely does such a tall, lanky fighter throw so many punches, but Williams keeps the leather flying. Williams also mixes it up, and he takes some shots in order to retaliate, thus making his fights exciting.
If Williams is likely to lose this year, the man I see with the best chance of beating him is Miguel Cotto. Cotto, who is the front-runner for fighter of the year right now, matches his strengths to Williams' weaknesses. Cotto is the best body puncher in boxing, and Williams presents a huge target. Cotto gets stronger as the fight goes on, and Williams faded slightly in the late rounds against Margarito. Williams takes many shots, and Cotto delivers maximum punishment.
On the other hand, Williams' physical advantages over Cotto are evident, and Cotto proved against Zab Judah that he is somewhat vulnerable in the early rounds. Williams comes out of the gate like a house of fire, and he could catch Cotto early, similar to the way Judah rocked Cotto in the early going. A Williams vs. Cotto fight is very close to call, but it would be highly entertaining. The fans and the fighters would love it, and I hope to write about it someday.
2) With Jermain Taylor vs. Kelly Pavlik, along with Joe Calzaghe vs. Mikkel Kessler apparently being done deals, is boxing back on the right track in 2007?
2007 will be remembered as the year of the great match-up. This is the year that big fights were made and most of them delivered major action. Vazquez vs. Marquez, Cotto vs. Judah, Williams vs. Margarito and even Diaz vs. Freitas delivered great action, and Mayweather vs. De La Hoya provided as much hype as any Superbowl. With Taylor vs. Pavlik and Kessler vs. Calzaghe being made for the fall, 2007 shapes up to be one of the most balanced years in memory.
On top the two super-middleweight clashes still to take place, Ricky Hatton is looking to finalize a fight, possibly with Mayweather or Paulie Malignaggi, and Williams and Cotto will both fight before the year is out. We still have at least four possible super-fights left to take place this year.
Other fights still floating on the horizon are: Manny Pacquiao vs. Marco Antonio Barrera II, Vazquez vs. Marquez (again), and Carlos Baldomir vs. Vernon Forrest. Also, Shane Mosely is still roaming around looking for a fight and the aforementioned Juan Diaz will fight again before the year is out. On top of that Kermit Cintron looked spectacular on Saturday, and someone is going to have to fight him.
There are a host of other intriguing match-ups, and I note that none of them are heavyweights. In fact no heavyweight matches even get a sniff at fight of the year honors, but boxing in general is showing signs of life this year.
3) Should Boxing Commissioners enter the ring and stop fights?
Over the weekend, Alfonso Gomez inflicted vicious punishment on Arturo Gatti. In front of a capacity crowd in Atlantic City, NJ, Gatti ate shot after shot from Gomez. Questions swirled before the fight as to whether Gatti should be allowed to fight, but New Jersey State Athletic Control Board Chairman Larry Hazzard felt comfortable with the match-up of Gatti and Gomez, and the fight was approved.
In the seventh round, Gomez drilled Gatti with several unanswered punches, until Gatti finally slumped down on the canvas. With blood gushing from his mouth, Gatti looked helpless, and referee Randy Neuman started his count. Before Neuman could finish counting, Hazzard entered the ring and personally stopped the fight. Hazzard, in a post fight interview with Lisa Scott of fightnews.com, said he supports his referee, but he still felt compelled to stop the fight.
It was definitely strange seeing the Commissioner step into the ring and stop the bout. In major league baseball, for instance, Bud Selig would never step on the field and overrule an umpire. However, boxing is clearly not like other sports. Boxing is unique in that a participant's health could be jeopardized in a matter of seconds, and Hazzard, unlike Selig, is a government official who is ultimately held accountable by the State of New Jersey for what happens in the ring. More importantly, Hazzard holds himself to a high standard of moral accountability, and he took a courageous stance in stopping the Gatti-Gomez bout. Hazzard did what he felt was right, and he did it with guts, and there is nothing more we can ask from a commissioner.
Hazzard told Scott, in that aforementioned Fightnews interview, "I may not be the most popular guy in the sport, but I am respected." Being a boxing Commissioner is not a popularity contest, and many fighters in New Jersey benefit from Hazzard's principled approach.
Fight I Would like to See and Why
Paul Williams vs. Miguel Cotto. Is there any other welterweight match that will smoke like this one? Williams and Cotto will engage the whole fight, and defense is not necessarily priority one for either man. Leather will fly, and the fans will go home happy. After that bout the fans will also have a better idea of who the best pound for pound fighter in the world is, and I have a feeling it might be Williams, but I cannot go on the record with that call until the bout is made. It is nearly impossible to pick against Cotto, but the enigma that Williams presents might be too much for Cotto to handle.
Quote of the Week
"People were saying I'm a deadman walking, a guy without chin, without something else."-Wladimir Klischko after his win over Lamon Brewster.
Quote of the Week II
"I've actually `competed' in a few official IFOCE events (international federation of competitive eating). They really need to get the Wing Bowl as a bigger event. The art of the wing `hiccup' (removing the meat from bone in one simple motion) is an art form when done properly.
Oh, and try to keep competing after the guy next to you has a complete reversal…not easy."-posted by "mgbode" on sportsillustrated.com's message board in response to Pete McEntegart's coverage of the Nathan's Famous Fourth of July International Hot Dog Eating Contest.
Injustice of the Week I
That I just reported the above as "quote of the week II".
Injustice of the Week II
The real injustice of the week is that some boxing fans, and I think a few media types, tried to steal Allan Green's thunder, when he destroyed Darrell Woods. Woods just came off a spectacular performance against Sam Miller, and I for one thought he would give Green a fight.
However, Green brought out the lumber and ended the bout quickly. Green is an excellent fighter who deserves credit for his victory. There was something clearly wrong when he fought Edison Miranda, and I hope he has his health back in order.
Non Boxing Thoughts
I will soon be visiting the offices of the International Fight League (IFL), and I hope to gain as much information about the fledgling MMA League as possible. I realize that MMA is here to stay, and the IFL is very interesting to me because of its team concept. Also, the IFL's bouts thankfully take place in a ring, not a cage. The IFL has some very interesting marketing ideas, and the league seems very fan friendly.
I hope to bring you my piece on the IFL before their semi-finals take place here in New Jersey, on August 2. If you have any thoughts about Boxing or MMA, please contact me at chrisrockk@hotmail.com. If you have questions about the IFL, I will speak with their Public Relations Team and try to provide you with answers. In the meantime, feel free to visit their site at ifl.tv.
Reader Submissions
The reader submission this week is interesting, especially since I noted above that none of the fight of the year candidates are heavyweight bouts. Also, the reader, Mark K., responded to my proposal of David Tua vs. Sultan Ibragimov, which I mentioned in my last column three weeks ago.
Mark writes:
You want some interesting heavyweight match ups ? First off, Tua's down to fighting in spurts, maybe not down to Briggs' level, but he's getting there. Ibragimaov would out hustle him 9 out of 10 times. Unless David landed a lottery punch, he ain't winning. David's fighting stiffs to try and use his name in order to get a fight.
Here's a few heavyweight matches: How about Vitali (not Vlad) vrs. Peter. Both guys can hit, both have chins, and both have poor defense. Maybe the boxing purists wouldn't like it, but it could be a hell of a fight.
McCall vrs Peter. I know Oliver's old and shot, but no one's EVER gone through him. Peter might just be stupid enough to try.
Ditto for Tua vrs Peter. Unlike Ibragimov, who's smart enough (I think) to out hustle Tua for an easy decision, Peter might try and go through Tua.
Certainly, any big hitter against Vlad would have a "punchers chance", but outside of his brother, I wouldn't favor anyone over him. If Shannon the Cannon went all out like he did against Lewis, figuring he'd either get him within 4 rounds or lose, it would be an entertaining and dangerous fight for Vlad. But I'd still take Vlad. If Briggs fights him at a measured pace, (more likely scenario) then he'd lose every round. I know Tua's got an iron chin, but Lennox Lewis' jab intimidated David enough to keep David on the outside, I think the same thing would occur with Vlad. Especially since Tua's older and more shot now.
That's about it for the heavies. Maybe Povetkin against someone or Dimitriov (The 6-7 Ukranian).
I will be taking reader submissions and answering them in this space. Please e-mail me at chrisrockk@hotmail.com with questions and commentary, and we will include as many as we can. Please include your first name and hometown for publication and type the word "Column" in the subject line.
*This column is inspired by the premier novel of the twentieth century, Ernest Hemingway's The Sun Also Rises. Hemingway spoke highly of the sport of boxing, and he participated as both a fighter and a referee. Every other week this column will humbly pay homage to the man who helped glorify the fight game back in its early stages. With a little hard work, the Sun Will Rise Again for Boxing, as together we can restore the sport to the top, one fan at a time. Thank You for reading the column.