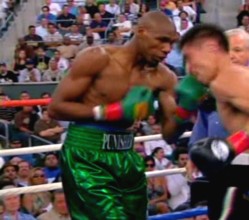 16.07.07 – By James Slater: The welterweight division is extremely hot at the moment – with super exciting fighters like Miguel Cotto, Zab Judah and "Sugar" Shane Mosley all battling for 147 pound supremacy below the admittedly less than explosive but still far from boring (in my opinion, anyway) "Pretty Boy" Floyd Mayweather. On Saturday night, however, in fights held on opposite coasts of America, an additional two fighters put on career best performances that put them right up there with the very best at 147. Both Kermit "The Killer" Cintron and Paul "The Punisher" Williams boxed in world title fights and came away with great victories.
From Cintron, who was fighting in New Jersey and defending his IBF title for the first time, we saw a devastating KO over the tough Argentine Walter Matthysse.
While from Williams, who fought in California, we were treated to a superb display of boxing skill as well as an ability to weather the storm, as he out pointed Mexico's WBO champ Antonio Margarito. As a result of their wins, both "The Punisher" and "The Killer" leapfrogged their way towards the top of the welterweight rankings – Williams in particular. What was a very rich division already was given even more depth with the all too obvious world class displayed by Paul and Kermit.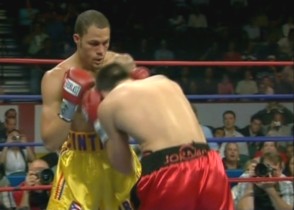 The twenty-seven year old Kermit, now trained by the great Emanuel Steward, looked positively frightening as he dispatched the once beaten Matthysse in two short rounds. Cintron's punches were chilling and his lone defeat, to Margarito, was temporarily forgotten due to his ruthless performance. Not just relying on his right hand anymore, Cintron looked like a complete fighter under Manny's guidance. It sure will be exciting watching Kermit fight again in the coming months. Whoever it is he boxes next, they had better be aware that they are in for a tough night. In short, Cintron's fists just might hold the most power in the entire welterweight division.
As for Williams, who, by the way, is the only man to have beaten Matthysse pre-Cintron, he out-boxed and out-toughed Kermit's sole conqueror in Antonio Margarito. Boxing beautifully in the first six rounds, the twenty-five year old unbeaten southpaw built up a good lead on the scorecards. Margarito, often a slow starter, came on in rounds seven through eleven, but he could not close the points gap. Antonio tested Paul's chin, however. Landing a number of good, hard shots to William's previously untested beard, the defending WBO champion must have been surprised when his rival did not fall.
A bad cut over the challenger's left eye was the most significant damage the twenty-nine year old could manage to inflict. William's, boxing masterfully at times, thoroughly deserved his unanimous decision victory – even if one of the scores, the one that read 116-112, was too wide. The fight was closer than that to be sure, but Paul Williams was definitely the man who deserved to have his hand raised. He upset the odds by giving a mature and gutsy display. It's a pity Antonio Margarito could not afford himself the good grace to be something other than a sore loser.
So, what now for two of the 147 pound division's brightest stars?
A revenge fight over Margarito, who stopped him in five rounds back in 2005, does not appear to be uppermost in Cintron's mind. Certainly he never called out the winner of Margarito-Williams when being interviewed after his win over Matthysse. Instead he said the loss to Antonio should be "forgotten" and that it had been "erased." Without a doubt, his great win in round two will have made people think of something other than his being destroyed by the Mexican warrior when they hear his name, but as for the loss being erased – that's another question entirely. Personally, I would love to see the power punching Puerto Rican try and avenge his solitary loss. Now that Margarito has lost his world title, and with it possibly some other options, the fight can surely be made. Let's hope so. Margarito-Cintron II could be a barnburner.
As for Williams, he made it clear who he wants next. "I want Cotto," he said moments after becoming WBO champion, "but if I can't get him I want Floyd." Clearly, Williams is only interested in super fights from now on. With his win over Margarito he may well be justified in thinking like he does. He also may well emerge victorious in such super fights should he get them.
Then, though, there's the possibility that Saturday night's two winners may square off with one another. And wouldn't that be a great fight in the making? Two proven punchers each defending a version of the world title. Can you say potential classic?
With his win over Matthysse, coming as it did a full eight rounds quicker than William's win over the same man, Kermit would have to be given a great shot at derailing the talented and unbeaten "Punisher." On the other hand, Paul's now proven chin, overall boxing skills and frightening reach advantage could well prove too much for Kermit.
There's only one way to find out!
I have a feeling these two will be hooking up sometime in the not too distant future. But whoever Kermit and Paul fight in the future, it's going to be exciting, damn exciting. For now though, they both sit on top – or at the least very near the top – of boxing's most competitive weight class. The welterweight division just got even hotter!