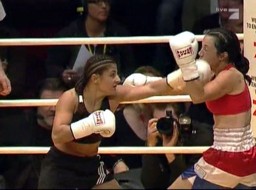 (Susianna Kentikian, shown on left tagging Anchorena) 31.03.07 – By Fritz Drexel: Earlier tonight, WBA female flyweight champion Susianna Kentikian (16-0, 13 KO's) stopped Maria Jose Nunez Anchorena (7-2, 6 KO's) in the 3rd round of their scheduled 10-round bout at the Köln Arena, in Germany. Kentikian, 19, originally from Yerevan, Armenia and now living in Germany, making the first defense of her WBA flyweight boxing title, was much too quick and powerful for her overmatched opponent from Uraguay, controlling the bout all the way through until the bitter end in the 3rd.
In the 1st round, both fighters started out slowly, with Nunez mostly staying to the outside, harmlessly flicking wild jabs that missed the mark badly. Kentikian, boxing out of a crouch, quickly closed the distance, shooting out left-right combination thrown with mean intentions. As the round neared the end, Kentikian landed two consecutive left hooks to the head of Anchorena, 33, snapping her back violently. The punches were beautifully thrown, looking like a textbook example of how to throw a left hook. Superb! As Kentikian walked back to her corner, she grinned impishly, looking like he had just her a good joke.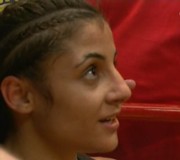 Kentikian came out fast in the 2nd round, landing a quick flurry that backed Anchorena up near her corner, where Kentikian then unleashed a long right shot that exploded off Anchorena's face, sending her down to the canvas. She quickly got up, appearing more embarrassed than actually hurt. Kentikian immediately followed up with a series of left-right combinations, but Anchorena took the shots well, and responded with a couple of shots of her own. None of the shots had any effect on Kentikian, who continued her steady attack on Anchorena. Near the end of the round, Kentikian landed another right hand shot that shook Anchorena, causing her legs to buckle slightly. However, she was able to make it out of the round without getting blasted again by another right hand.
In the 3rd round, Kentikian, looking as if she wanted to end fight, immediately pounced on Anchorena at the center of the ring, landing a quick left-right combination, again, thrown with beautiful form. She followed with a jab, and then another left-right combination, which badly hurt Anchorena, sending her in retreat against the ropes. Kentikian calmly followed her and landed a final four punch combination that caused the referee to halt the bout one minute into the 3rd round.