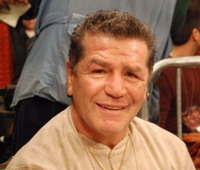 23.02.07 – Geoffrey Ciani at Ringside: It was kind of fitting that former middleweight champion Vito Antuofermo (photo by Geoffrey Ciani) was ringside for last night's heavyweight contest between David Tua and Robert Hawkins at the Roseland Ballroom in New York City. Two undefeated New York middleweights were featured on the under card—"Mean" Joe Greene and Peter "Kid Chocolate" Quillin. Both of these promising young pugilists aspire to reach the championship level Antuofermo once held. Last night both prospects took one step closer to that dream, as each won in impressive fashion, both exhibiting a flare for the dramatic.
Residing from Brooklyn, New York Peter "Kid Chocolate" Quillin is just 23 years old. Going into last night's contest, his professional record was a perfect 8-0 with 7 wins coming by way of knockout. Despite his young age and limited experience at the professional level, there was quite a bit of buzz floating around in anticipation for his bout. In fact, Quillin had a decent-sized fan base present and already appears to have a loyal following amongst fellow New Yorkers..
Having never seen Quillin previously fight, I was anxious to finally see this youngster in action. When he entered the ring, the first thing I noticed about him was that he didn't look like a middleweight. Standing over six feet tall, he looked more like a light heavyweight. Having heard so much about him, I was hoping his opponent would be durable so I could get some idea of what type fighter he really is. His opponent Steve Walker came into the bout with a professional record of 20-14 including 14 wins by way of knockout, so if nothing else, Quillin was facing a much more experienced opponent.
Unfortunately, Walker didn't prove to be too durable. Just 38 seconds into the first round, he was dropped with a wicked left hook and once I saw him hit the canvas I knew the bout was over. It all happened so quickly that "Kid Chocolate" hardly broke a sweat. Unfortunately, the fight was so short that I was unable to gage how talented Quillin actually is. In the brief glimpse I had, he appeared to have fast hands and good ring movement, but it's impossible to make a proper assessment in a mere 38 seconds. The only thing I can say with any confidence is that Quillin seems to pack one hell of a left hook!
After Quillin's bout came the feature bout on the under card starring "Mean" Joe Greene. This was the second time I got to see the 21 year old southpaw in action. Last time I watched him was three months ago when he squared off against Edson Aguirre. In that bout, Greene showcased his immense talent by landing every punch in the book en route to a fifth round stoppage. Greene, who dropped his tough opponent seven times in that bout, had exhibited stellar defensive skills and a tremendous punching variety.
Last night, Greene was slated to face another tough journeyman in Pat Coleman. Coleman had a professional record that included 29 wins versus 14 losses with 20 wins coming by way of knockout. During his career, he had only been stopped inside the distance on two occasions, each time in the eighth round. After Quillin's destruction of Walker, I figured that this one would be more of a fight—I was wrong.
Despite looking like a scrappy veteran who had a keen ability to survive, Coleman was no match for "Mean" Joe Greene. Greene was very patient at the on-set. He utilized his defensive prowess to gage the speed and timing of his opponent. He also exhibited good movement, great reflexes, and an ability to slip punches while maintaining his composure. The opening minute hinted that we were in line for a tactical bout, but that feeling was short lived.
After firing some nice jabs in the center of the ring, Greene backed Coleman into a corner and unleashed a nasty combination. It was tough to tell exactly what happened from my vantage point across the ring, but it appeared that the finishing blows were a liver shot followed by a nasty-looking uppercut. Coleman crumbled to the canvas and Joe Greene calmly proceeded to the neutral corner, cool as an assassin. The bout was halted at 2:06 of the opening round. With the victory, "Mean" Joe Greene improved his professional record to an unblemished 14-0 with 11 wins coming by way of knockout.
For those of you unfamiliar with "Mean" Joe Greene, remember the name. You'll become familiar with him in due time, for I believe this young fighter has an extremely bright future in this sport.
To contact Ciani:
geoff@eatthemushroom.com
To read more articles by Ciani, please visit The Mushroom Mag:
http://www.eatthemushroom.com/mag