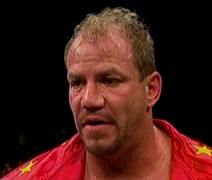 22.02.07 – By Michael Marley, Boxingconfidential.com – They will never write a "Rocky' script as strange as this. Tommy "The Duke" Morrison, who played in a "Rocky" boxing movie as fighter "Tommy Gunn," launched his ring comeback last night in Chester, West Va., with a two-round KO over well-chosen punch bag John "White" Castle Thursday night.
The fight, at the Mountaineer Racetrack, was Morrison's first since he blasted out hapless Marcus Rhode in one round in Tokyo in 1997. In 1996, Morrison was virtually banned from boxing as repeated tests showed he was HIV positive. This KO over 4-3 Castle, who is from Indianapolis, came at 1:49 of the second of four scheduled rounds. "Tommy had some rough going in rounds one and two," an eyewitness reported by phone. "No doubt, Tommy lost the first round. He started walking Castle down in round two but Castle landed a few good punches. Morrison hit Castle right on the button and nothing happened.
Just when it looked like Morrison's storybook comeback was a one-bout affair, he cracked Castle with the same type of left hook he used to discombobulate Donovan "Razor" Ruddock. Castle went down in a heap."
Morrison, who may have a huge lawsuit against medical officials who diagnosed him as having the HIV virus, said recent tests show he does not have it.
Now 47-3-1 with 41 KOs, the 38-year-old Morrison will fight again presumably again under Bob Arum's Top Rank banner.
Morrison's return drew ringside coverage from media types from around the world.