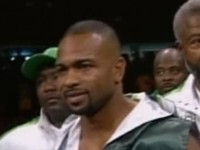 31.07.06 – By James Slater: Roy Jones, Jnr certainly did not look like a shot fighter last night. And while he never rolled back the years sufficiently so as to dazzle the fans with a performance that was akin to one from the glorious days of his prime either, Roy proved he very definitely still has something. He boxed well, was never hurt, and looked comfortable at the final bell. And this was after twelve lively rounds. Ajamu tried, that much is without doubt. He put Jones under pressure from the first bell with his constant forward aggression. Yet Roy was able to handle everything that came at him – in the end pitching a shut-out, with three identical scores of 119-106. Roy's performance was one that will have surprised quite a few experts. The question is, what's next?
In the interview Roy gave post-fight, he gave himself a C rating for his display – before reaching the subject of who he will fight next. Sounding as cocky as he ever has, Roy said he'd fight anyone. Names mentioned included, Glen Johnson, Bernard Hopkins, and "the boy from England" – I assume Jones was referring to Joe Calzaghe, or was it Clinton Woods? Whatever. And, as crazy as it may sound, Roy would probably have a shot against any one of these three fighters. Certainly judging by the capable way handled Badi Ajamu, anyway. The future for Roy Jones, Jnr will prove to be very interesting indeed.
The fight with Ajamu was entertaining and nothing like what some had predicted beforehand. With their open concerns of a sad affair about to unfold, one that would prove to all just how badly diminished a fighter Roy Jones had become, a bout completely devoid of competition was foreseen by some people. Happily, this was not the case. Roy still has more than enough left to utterly out class many fighters. Prince Badi Ajamu is one of them.
Though he got off to a good start, putting pressure on Jones as he backed him to the ropes, Ajamu's attacks lacked imagination. He was to repeat the same tactics all night long and, after winning the opening two rounds, his success rate dropped. Roy threw flashy burst of punches and smiled as he did so. It wasn't long before a pattern, of his total dominance at controlling the action, was formed. The only time Ajamu hurt Jones was when he landed low blows. He was warned quite a few times throughout -in the fourth round, in the seventh, when TWO points were taken off, and again in the eight, when another point was taken from Ajamu and his final warning given. The Prince was massively behind on the scorecards by this time and clearly needed a KO to salvage victory. Such an occurrence looked highly unlikely, however.
With regards to the referee, although taking the points he did from Ajamu for the low blow infringements was okay, some of his other actions were quite perplexing. He twice warned Jones for extending his arm without letting a punch go. While he also warned the winner for holding his opponent around the back of the head and not punching while in a clinch. In fact, the ref was a constant vocal irritant all night. When have you ever seen an official reprimand a fighter for extending their arm in the ring? Roy wasn't using the move as a range finder either, his glove never made contact with Ajamu when he stuck out his arm. Strange refereeing indeed. The man in question, Jerry Armstrong, also had the cheek to tell the fighters to stop talking at one stage. This after his voice had been heard constantly throughout the contest. Both boxers looked somewhat annoyed with him on more than one occasion.
By the final third of the fight, Roy was still looking fresh. His punches had some zip to them at this late stage, particularly his left to the body – a punch that had served him well all night. While Ajamu, trying his best to rough Roy up along the ropes, was out of steam and looking tired. The class of Jones was telling. Any hopes Badi may have had about Roy being badly damaged goods were being quashed. The former pound-for-pound king was looking sharp and confident. The fight was far from being a great contest, but it was entertaining enough. And for the Roy Jones fans, seeing their hero winning and not getting hurt was more than enough.
In the final three minutes, barring a stunning KO from Badi, Roy had the fight overwhelmingly won. Ajamu was breathing very heavily now and the cut over his right eye which had really started to bother his corner-man, Buddy McGirt, continued to bleed quite profusely. He looked a beaten man. Which is exactly what he was, despite his brave effort.
The scorecards, apart from being extremely late in their reading, where a formality. All three judges were in complete agreement with Jones' complete superiority. Roy prevailed by three, THIRTEEN point margins. There were no complaints from the Ajamu camp.
Roy Jones, Jnr is back! For how long, and to face who, will produce much talk in the coming weeks.