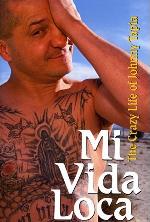 Los ANGELES, CA – May 31, 2006 – Five-time boxing champion Johnny Tapia will officially launch his newly released autobiography, "Mi Vida Loca: The Crazy Life of Johnny Tapia" this week with appearances in Los Angeles and San Antonio. A true-life story stranger-than-fiction, Tapia lost his father before he was born and witnessed the kidnapping of his mother at age eight. She was later murdered, leaving Johnny in the Albuquerque barrio with his abusive, heroin addicted uncles who began entering him into human cockfights as a 9-year-old. He overdosed on his wedding night to Teresa, has been pronounced dead four times and refers to cocaine as "his mistress." For now, Tapia seems to finally have his addiction issues under control and is ready to share his compelling story. Tapia battled drugs, death, poverty and demons to become a legendary champion, beloved by fans for his epic battles, both in and out of the ring.
Just when you thought you'd heard it all, Tapia comes clean with new, compelling stories of abuse, addiction and, ultimately, survival. Bettina Gilois, co-author of Tapia's book, wrote the recent hit movie "Glory Road" and is currently in the re-write stage of Tapia's movie for Jerry Bruckheimer Productions..
Tapia begins his appearance schedule tonight (Tuesday, May 30) when he throws out the ceremonial first pitch before the Angels game in Anaheim.
On Wednesday, May 31 at 6:00 a.m. PST, Tapia will be the in-studio guest on "Piolín por la Manana" ("Piolin in the Morning"), Los Angeles's #1 Morning Drive program, airing on Univision Radio's KSCA. At 10:30 PST, he will guest in-studio on the nationally syndicated "The Jim Rome Show," which airs on more than 185 radio stations each weekday. Tapia will also appear on a number of Univision radio programs, both local and national, broadcasting from Los Angeles.
On Wednesday evening, Los Angeles area fans are invited to meet Tapia during his first official book-signing event at 6:00 p.m. at the Team L.A. store at Universal CityWalk (1000 Universal Studios Boulevard, Universal City, CA, 818-509-3090).
Later this week, the Tapia tour continues in San Antonio, Texas with a number of appearances sponsored by the San Antonio Univision radio cluster that includes top-rated stations KKOR, KXTN, KBBT, KROM and KCOR.
Tapia will make book signing stops and be available to the media in Chicago, New York and, of course, at home in Albuquerque — once additional June dates are announced.
Please check www.JohnnyTapia.net frequently for updates and information.>