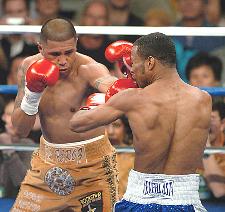 27.02.06 – By Geoffrey Ciani: As I suspected, Saturday night's PPV match-up between Sugar Shane Mosley and Fernando El Feroz Vargas (photo: CJ Cansler / ESB) was better than most people had anticipated. Each fighter came prepared to fight and both gave it all that they had, showing flashes of their former glory in the process. Indeed, it was a pleasure to watch these two former elites battling it out despite the fact their best days are behind them.
Early in the bout, Mosley took control of the action using his jab, which helped secure the first three rounds for him on my scorecard. In fact, Mosley was working his jab as well as I've ever seen whilst frequently snapping it out with commanding authority. This created other openings that helped Mosley utilize his speed advantage. Much to my surprise, Mosley was actually throwing four and five punch combinations more often than I recall since he suffered his first loss against Vernon Forrest. This was by far the most aggressive Mosley has looked in sometime; he wasn't gun shy and timid the way he's been in recent bouts – Mosley was ready to fight and almost resembled the Mosley of old.
For his part, Vargas also came to fight, and despite losing the first three rounds, he didn't look bad – apart from the fact his defense isn't nearly as good as it once was. However, that probably had a lot to do with Mosley's blinding speed: he may be 34 years old, but his hands are still lightning-quick when he commits. Vargas made a good account of himself, and it quickly became apparent that these two former elites were ready to go to war. Both pugilists were aware of the significance of this bout; each man knew that the loser of this fight might not be afforded another big opportunity.
In the fourth, Vargas's size and strength advantage began having an affect on Mosley. This was evidenced by the fact that Mosley went into retreat mode and switched to a defensive posture. All of a sudden, Mosley looked less like the Mosley of old and more like the Mosley of the post-Forrest era. Instead of snapping his jab like he was earlier in the bout, he started flicking it ineffectively. His demeanor also changed. In the first three rounds he looked full of confidence, but by the fourth and fifth rounds he looked as if he was a defeated fighter. Vargas sensed this, and turned up his attack. The momentum shifted when Vargas clinched the fourth and fifth.
In the sixth round, Mosley began mixing it up again and the fight became more and more interesting with each passing moment. Both fighters were clubbing each other with some pretty vicious punches, and it seemed as if the entire concept of defense had been abandoned entirely. It became a matter of pride; neither fighter wanted to give in to the other. Indeed, it seemed this one was going to come down to which fighter wanted it more. Or was it?
With the scorecards fairly even after seven or eight rounds, a grotesque swelling began oozing from the region where Vargas's left eye had once been. This was the direct result of Mosley's looping right hands that couldn't miss their mark. Repeatedly, Vargas was tagged with this same punch over and over again; Mosley's accuracy was impeccable. But to his credit, as bad as Vargas's eye was he never stopped throwing punches, he never gave in, and he even managed to win the ninth round even though his left eye was completely closed under a swollen mess of flesh. It reminded me of the way Rocky Balboa's eye looked just prior to begging 'Cut me Mick. Cut me'. Except, of course, that was a prosthetic used for a special effect in a boxing film. This was real, and Vargas's eye looked freakishly wrong.
Much to my surprise, the ref allowed this one to go on. It seemed like a reasonable enough decision because Vargas was still winning rounds without his left eye. Regardless, Mosley was continuing to focus his efforts on that eye as he hammered away with tremendous success. I mean, Vargas was having enough trouble stopping these punches before his eye had closed; now that it was completely shut, he couldn't even see them coming and was rendered defenseless.
The finishing blow came in the tenth round after Mosley landed another thunderous right, which prompted referee Joe Cortez to stop the bout. By this point, the commentators were making comparisons to the disgusting lump Hasim Rahman grew after being on the receiving end of a Holyfield head butt. Cortez made the right call. I was actually surprised he hadn't stopped it sooner. Vargas made a great account of himself and has nothing to be ashamed of. Despite losing, I think his standing improved after this fight. Besides, it's better to have lost than to have suffered permanent damage and possible blindness.
So, what's next for Sugar Shane? Well, he's made his plans abundantly clear – he wants Floyd Mayweather, Jr. It's a smart idea for Mosley to move back down in weight. I really believe he's simply too small for 154, whereas I feel he still has the speed and the skills to dominate 147. I've long maintained that Mosley poses a risky style match-up for Mayweather, and dare I say – I believe Mosley would beat the reigning pound-for-pound king. However, looks like we'll have to wait awhile before this one happens. It seems that Mayweather would prefer an easy fight against an undeserving hack like Zab Judah. Brooklyn!!
To read more articles by this author, please visit The Mushroom Mag:
www.eatthemushroom.com/mag
To contact this author: