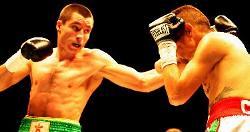 28.10.05 – By Wray Edwards , photos (c) Wray Edwards: Actually this is a great opportunity to include some pics of the fight which was just great. Sometimes when one gets one's head really far up there, it's hard to get things straight. Witness below, text which now properly reflects the outcome of the fight. The report was written below the Ibragimov-Ahunanya piece, and should have read as follows:
The other Russian there that night, was even more successful. Lightweight Rustam Nugaev, 15-4-0 (7KO) now living in Hollywood, Florida took on Mexican Luis Arceo, 19-3-2 (13) from Aguascalientes, AG. Luis "El Vampiro" lives in Tijuana the minor Mecca of Mexican boxing. It was Arceo who experienced "hot water" once again..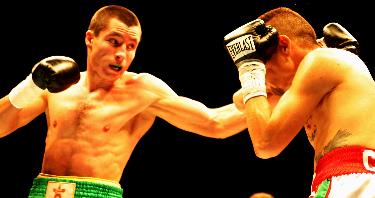 Their fight was like the other two…filled with action and entertaining to all in attendance. There was, however, one additional dynamic resulting from their clash. Never, in thirty years of watching boxing matches, has this writer seen so much sweat in the air. The superb lighting of the Gwinnett Center accentuated the constant shower of moisture exploding from both fighters.
Back and forth they went giving each other merciless pummelings. Both fighters displayed incredible heart and energy. It was pretty warm in there, and that added to the precipitation which was liberally showered on everyone near the ring. This fight between twenty-three year-old Nugaev, 98/1049 and twenty-six year-old Arceo, 140/1049 was an incredible bang-fest. Admitting a certain addiction to sluggers, this writer was well-pleased.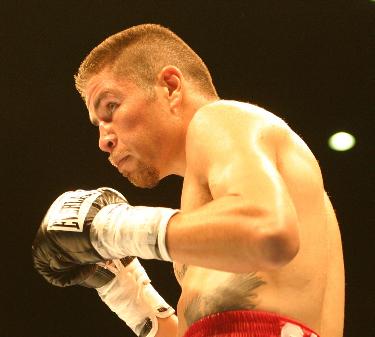 Finally, about the middle of round six Nugaev began to dominate, saw an opportunity, turned up the wick and beat Arceo close enough to helplessness that the ref stepped in to protect the Mexican. Rustam would not be described as an artist in the ring, but he showed just that much more tolerance for punishment to bring victory. Arceo ended in his corner quite the worse for wear and his feet held up by a second.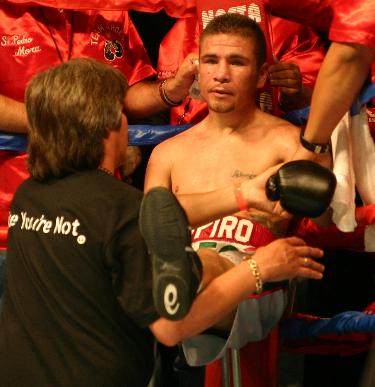 Their contest was proof positive that a really good scrap can come at any level in the rankings. In fact these rankings are possibly hungrier territory with less politics. The great pool of boxing talent is revealed by such matches…and these two were well matched. Nugaev had a really great management and corner team. Both Rustam and Arceo put on a good show and truly left everything in the ring.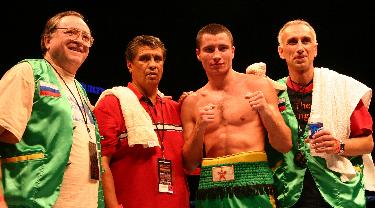 Better late than never…have had these reports on the back burner for quite a while. Will be at the Hard Rock for Sultan's next adventure. He is, after all, still undefeated and quite an interesting prospect. ESB will also cover Lacy-Pemberton in Lake Tahoe. See you at the fights.