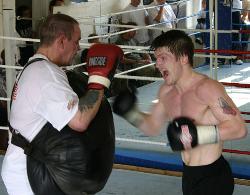 31.05.05 – By James Moore, Hatton training photos by Paul Speak – Last Friday, May 27th, Ricky "The Hitman" Hatton had once again completed his infamously grueling, and classically "old school", 15 round body belt session. It was the concluding piece of his training jigsaw, and the customary preparation for his upcoming super-fight with the legendary 140lb king, Kostya Tszyu.
Superlatives have been flowing from Billy Graham's Manchester gym, where Hatton works out of and known as the "Phoenix Camp", for weeks. Many seasoned observers have remarked that the Englishman has never looked so fit, so strong, so quick or so confident. The mutual feeling from within Team Hatton is that this, by far and away, is the best Ricky Hatton that they have ever seen.
They truly believe that the Hitman's date with destiny will be an encounter of the endearing variety, as they have the ultimate faith in his ability, and can only see one winner come June 5th..
Team Hatton photographer Paul Speak popped down to the gym last Friday to catch up with his good friend Ricky and take some exclusive shots for the Hitman's official site, www.rickyhitmanhatton.com
The twenty six year old Hatton's physical condition displayed the "ripped to pieces" state obtained from a perfect preparation the Hitman endured under the guidance of trainers Billy Graham, Bobby Rimmer and Kerry Kayes.
Hatton warmed up for the marathon training session by pounding the heavy bag with some seriously bad intent. The Manchester man's career-long mentor and trainer, Billy "The Preacher" Graham, continued to administer sage advice on blocking and slipping Tszyu's potent arsenal, including the IBF Champion's under rated left hook.
Hatton moved on to the infamous 15 round body belt session by unleashing wave after wave of punishment onto Graham, with the trainer wearing only by the torso protecting body belt and some battered punch mitts.
Ricky finally started to feel the strain after dishing out 14 rounds of his own particular brand of ferocious violence and was treated to an improvised shower from a few water bottles.
Hatton came down the finishing straight and gained his second wind, ending the 15th and final round of the body belt impressively with his trademark withering body shot assault.
Once again the Hitman had demonstrated just why he is the busiest and fittest fighter in world boxing today. Mission complete, Hatton removed his hand wraps and rests assured that the heavy work has finally been done in his preparations to challenge Kostya Tszyu and he's never looked so good doing it.
Kerry Kayes, Hatton's 's dietician and nutrition expert, commented, "Ricky has on his back what's known in the bodybuilding world as a 'Christmas Tree' . It's a definition of muscles off the spine of his back and it's the first time they've ever been noticeable. It's a testament to the hard work he has put in. With every fight we've gotten him stronger, and this fight is without exception. We start every camp with a higher weight platform, and the muscle composition in his body has never been as defined as it is now. I also hoped that the definition wouldn't retract from his strength, and it most certainly hasn't; Ricky has never been as strong as he is right now.'
With just four days remaining until he squares off for the fight of his life, Ricky Hatton feels that this is truly his time. An ardent student of the game, he has studied Tszyu and Hatton feels that he has an answer to whatever the IBF Champion may bring to their contest. Ricky truly believes in his only ability and feels that once he and Tszyu step into the ring in Manchester's Evening News Arena, past achievements are exactly that. Hatton feels that with just himself and Tszyu between the ropes, there will be no doubt that he will come out the better man and take the Undisputed Light Welterweight title of the world form the champion.