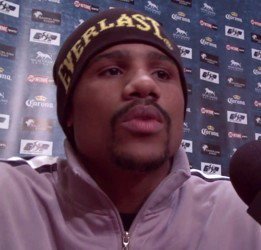 By Michael Collins: Last Saturday night, super middleweight Andre Dirrell (21-1, 14 KO's) showed boxing fans why he was so highly hyped in the past by beating an out of his class 2nd tier fighter Michael Gbenga (14-7, 14 KO's) by an impressive 10 round unanimous decision at the Convention Center in McAllen, Texas.
The 29-year-old Dirrell, who hadn't seen action in well over a year, knocked down with a right uppercut to the head in the 9th round, and Dirrell also had Gbenga hurt in the 7th and 10th rounds from blistering right hands.
Gbenga showed good power as well, but he wasn't able to land many of his shots due to Dirrell ducking or pulling his head away to avoid his power shots. He looked pretty frustrated with his inability to connect.
Dirrell's hand speed was just as fast as it was when was competing in Showtime's Super Six tournament in 2009-2010.