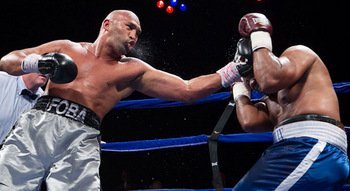 by Pavel Yakovlev – photo by Joey Hill – Saturday night, Fres Oquendo reminded the world that he is more than just a skilled technician: he can also bang. Oquendo made his point by stopping Robert Hawkins in seven rounds, dominating the action with crackling right hands and a hurtful body attack. The early finish surprised many, as Hawkins is known for his durability. Oquendo's speed, punching precision, and power, however, overwhelmed Hawkins and rendered a knockout unavoidable.
After battering Hawkins with jabs and well-placed body punches in the first two rounds, Oquendo shifted his attack to the head. Hawkins was knocked down twice in the third, and absorbed punishment for several more rounds before retiring at the end of the seventh. Repeatedly, the sturdy and thickset Hawkins was rocked by Oquendo's grenade-like rights.
"I put my combinations together, and I put a lot of pressure on him," said Oquendo. "In the third, I hit him with a left uppercut and a right, and he went down. After that, I floored him with a left to the body. My speed and power were too much for him. He was hanging in there only because he has so much heart, but my punishment made him quit."
Particularly satisfying to Oquendo is that the victory came by knockout. "I stopped a guy that Tua couldn't stop," he said. "I showed everyone that not only am I a jabber and a mover, but that I have a body attack, and that I can punch."
Oquendo is now 35-7, including 23 wins by knockout. Presently ranked 14th worldwide by the WBA, He is now seeking an elimination bout against a top contender. A native of Puerto Rico who grew up in Chicago, Oquendo holds the WBA Fedlatin title.