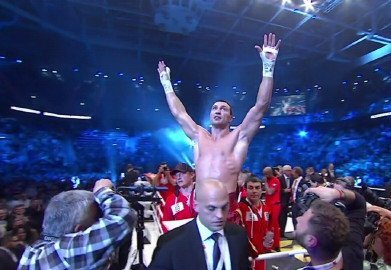 IBF/IBO/WBA/WBO heavyweight champion Wladimir Klitschko (61-3, 51 KO's) is very wary of the huge power of his opponent Alex Leapai (30-4-3, 24 KO's), and he's vowing now to underestimate him in their fight on April 26th at the Koenig Pilsener Arena, Oberhausen, Nordrhein-Westfalen, Germany.
Leapai pulled off an upset in defeating Denis Boytsov by a 10 round unanimous decision last November in their WBC title eliminator bout in Germany. Boytsov was expected to win the fight handily, but he found himself getting dropped by Leapai and dominated.
"In a certain way I can compare him [Leapai] to Rocky; he's an underdog," Wladimir said to Fightnews. "He made a statement that he saw in my eyes that he's going to knock me out in the first three rounds. He's so physically strong that he doesn't need technique or strategy."
If Wladimir doesn't think that the 6'0" Leapai doesn't have technique or strategy then he could be in for a tough time on April 26th, because everything that Leapai does in the ring has strategy and technique behind it. He's not unskilled, and he definitely knows what he's doing. You can tell from watching Leapai's fights against Boytsov and Travis Walker that he's constantly thinking in the ring. He blew out Walker in 4 rounds, and gave Boytsov a beating. The only reason that Boytsov made it to the final bell in that fight was because of his strong chin. He took some monstrous shots in that fight.
Wladimir hasn't faced a real big puncher in a while like Leapai, and it's going to be tough on him until he opts to hold the Samoan heavyweight all night long. The referee that worked his last fight against Alexander Povetkin last year left Wladimir hold all night long.
All it will take for Wladimir to be at risk of losing the fight to Leapai is if there's a referee that doesn't let him hold all round long, and who doesn't let him lean on the back of his opponent's neck. If Wladimir has to fight Leapai instead of hold, we could see an upset on April 26th.