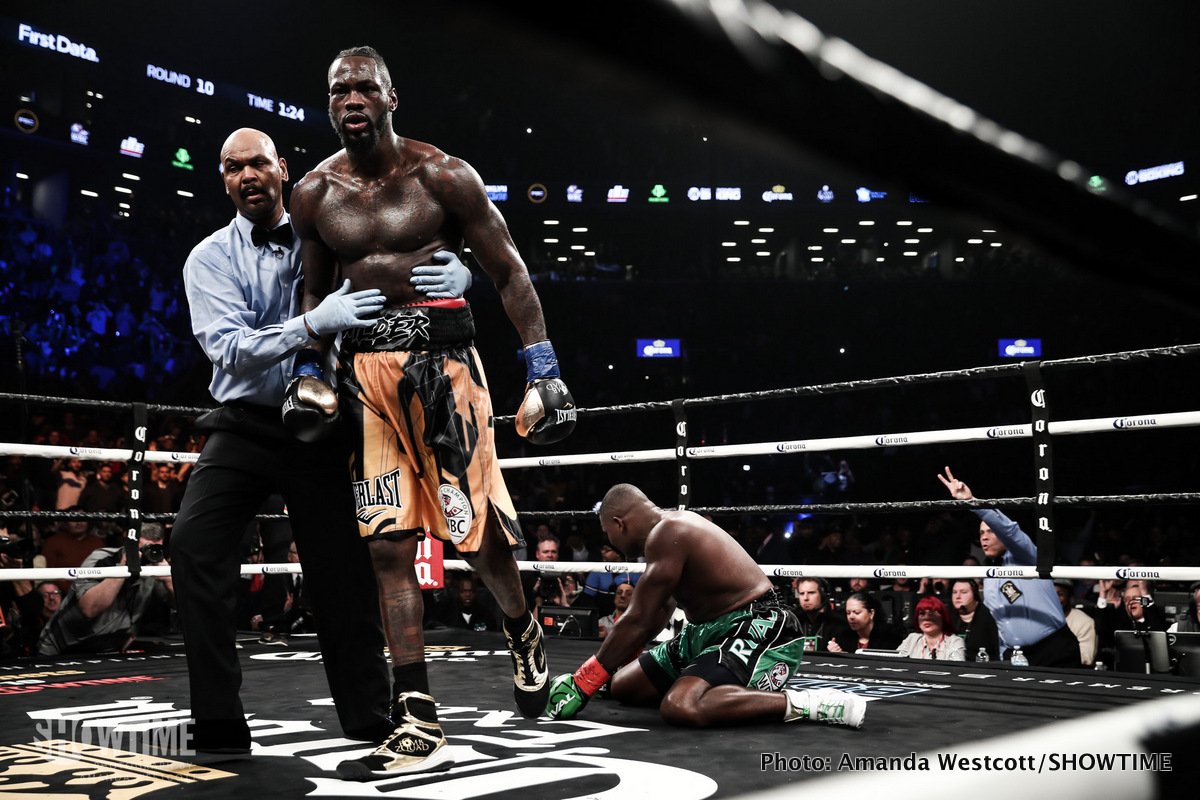 Unbeaten heavyweight star Anthony Joshua, the reigning WBA/IBF/WBO champ, was speaking with Sky Sports News yesterday, and the charismatic big man was talking about how the good thing with the current heavyweight scene is the number of exciting potential match-ups there are out there.
Joshua – who is rivalled for supremacy by WBC king Deontay Wilder, also perfect as a pro, and lineal ruler Tyson Fury, also currently holding an unbeaten ledger – spoke about how fights between he and his biggest rivals will always attract big fan attention, even if one of them has lost a fight.
Joshua faces Alexander Povetkin next, while Wilder and Fury are set to rumble later on this year, and AJ says that if he loses, or if Wilder or Fury lose, they can still all fight one another and the fans will pile in in droves to see the action. It's true, an unbeaten record does not mean everything and Joshua is right: even a 40-1 Wilder, a 25-1 Fury, or a 21-1 Joshua, if matched with one another, would be big news, must-see heavyweights in action.
But which of these three modern day kings, all battling it out (we hope) for utter supremacy, will lose a fight first? Chances are, Joshua will come out okay against the almost-40 year old Povetkin on September 22 and retain his spotless record, but Wilder and Fury face a far more serious test (not that there is anything unserious about Russia's Povetkin) against each other. Wilder or Fury will lose their unbeaten record before AJ does (unless these two battle to a draw in Las Vegas).
But as Joshua says, he will still look to fight both men, that these fights would still be big, big, big. Wilder, in the opinion of many, if not most, will beat Fury, advancing to 41-0 as he does so, and then, against a 21-0 Joshua, the biggest heavyweight fight in years will surely come as the two unified kings go at it. But again, even if Fury upsets Wilder, Joshua says he will still fight "The Bronze Bomber."
This could prove to be a great round-robin comprising of heavyweight action. Fury might clean up and beat both Wilder and Joshua, or maybe Wilder will lay both Fury and AJ clean out. Or maybe you like Joshua to defeat all comers on his way to true greatness.
As long as these three exciting heavyweights get it on with one another at least one, we fans will be both happy and content. Who is the best: Fury, Wilder or Joshua? There's only one place to find out.