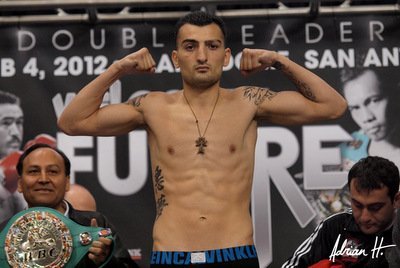 By Joseph Herron:, photo by Adrian Hernandez — On Saturday, November 10th, from the Wynn Las Vegas, top ranked Junior Middleweight contenders Erislandy Lara and Vanes Martirosyan will finally get it on in a highly anticipated WBC title eliminator contest.
While both men have finished their respective camps and are currently in Las Vegas, Nevada, Erislandy's world renowned trainer, Ronnie Shields, feels positive about his fighter's chances on Saturday night.
"We just finished up a great training camp and Erislandy knows exactly what he has to do. We know it's going to be a great fight and we're expecting to see the best version of Vanes Martirosyan on November 10th. To win this fight, Lara simply has to be Lara; display his talents and come out victorious. He's ready to go."
Though no one can question the level of talent possessed by the Cuban exile, skeptics and fight critics have publicly commented on the possibility of another questionable decision while fighting on the opposing fighter's promotional bout sheet.
During his previous appearance on a rival promoter's fight card, Erislandy took on former Welterweight Champion Paul "The Punisher" Williams in Atlantic City, New Jersey, in the main event of a Goossen/Tutor Promotion on July 9th, 2011.
After seemingly dominating the twelve rounds of action with the cleaner and more impactful shots landed, Lara was surprisingly deemed the runner-up by the judges at ringside, who scored the contest 114-116, 114-115, and 114-114, in favor of the Goossen/Tutor pugilist, Paul Williams.
Many boxing pundits fear that the same debacle could materialize once again on the Top Rank promotion this Saturday night.
Trainer Ronnie Shields commented on the implication.
"My fighter is exactly what his job title implies…he's a fighter. He's going to go out there and give the fight fans 100%. One thing we can't worry about is getting a bad decision. If that plays on your mind while you're in that ring, then that means you're not focused the guy in front of you."
"Throughout the entire training camp, we've been focused solely on what we have to do to beat Vanes Martirosyan, not the judges at ringside. If the fight goes to a decision, it's out of our hands. Lara's job is to stick to the gameplan. He knows what to do. If he executes the gameplan to perfection on fight night, then the judges will only be able to see the fight one way…and that's a decisive victory for Erislandy Lara."
While both fighters recognize the severity of the event, Ronnie understands what will ultimately be on the line in Las Vegas, Nevada, come November 10th.
"Both men are going to bring their best in this fight…I truly believe that. I think for the first time in their pro careers, both men are going to have to think outside the box in order to win. This fight is just as important as any world title fight for both fighters. This fight means everything to both Erislandy and Vanes."
"I definitely know what it means for my fighter. Lara's wanted to get back on the main stage since his fight with Paul Williams. It's been well over a year since that fight, and he knows how difficult it is to get here. It's even more difficult to stay there. So this fight is everything to him."
While both competing fighters have been visiting the various media outlets to help promote the tremendous HBO event, Ronnie has heard the confidence exuded by the talented Mr. Martirosyan during many different interviews. Although the expert trainer is entertained by Vanes' commentary, he won't be impressed until he sees how the undefeated fighter reacts under extreme adversity in the ring.
"We've all heard Vanes talk and he sounds very confident. But the time for talking is over. We're here. My fighter knows what it's like to be in a big fight, Vanes doesn't. When Martirosyan walks down the aisle and he gets into that ring, he'll know that it's for real…he'll know that it's time to fight."
"There's no getting out of it…his trainer Freddie Roach can't help him now. It's just going to be him and my fighter, Erislandy Lara."
"All the talk is over with now. It's time to put up or shut up."
Promoted by Top Rank®, in association with Tecate and Wynn Las Vegas, tickets to this special event are priced at $125, $75 and $40, plus a $3 service fee, and are inclusive of applicable taxes. Tickets can be purchased by calling (702) 770-7118, through the website wynnlasvegas.com or by visiting the Wynn Ticket Office (Friday-Tuesday: 10 a.m. to 11 p.m. PT / Wednesday-Thursday: 10 a.m. – 6 p.m. PT) or the Wynn Concierge (Daily: 10 a.m. – 9 p.m. PT.)
The televised coverage begins, Saturday, November 10, from the Lafite Ballroom at Wynn Las Vegas. "Martirosyan vs. Lara and Garcia vs. Barros" will be broadcast live on HBO Boxing After Dark®, beginning at 9:45 p.m. ET/PT (delayed on the West Coast.)