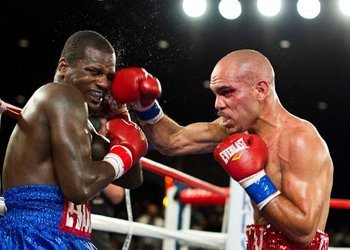 truTV and Top Rank will partner to exclusively televise a live Friday night primetime boxing series beginning Friday, May 1, at 10 p.m. ET. The new boxing series, in association with Turner Sports and HBO Sports, will launch on the eve of the Floyd Mayweather vs. Manny Pacquiao pay-per-view fight with a card featuring two title bouts inside The Chelsea at The Cosmopolitan of Las Vegas.
Maximizing visibility, the inaugural series on truTV will feature three consecutive weeks of boxing coverage in May – all airing on the evening prior to a Saturday night HBO fight event – along with a slate of five additional fights to be scheduled over the remainder of the year.
The schedule will regularly feature some of the most exciting, established young talent in boxing. Turner Sports and HBO Sports, with its long and rich history with the sport of boxing, will contribute resources as well as marketing and digital platforms in support of the new series.
The main event onFriday, May 1, will showcase Takahiro Ao (27-3-1, 16 KOs) from Chiba, Japan, vs. Ray Beltran (29-7-1, 17 KOs) from Los Mochis, Mexico, in a 12-round bout for the vacant WBO Lightweight World Championship. The undercard will include two undefeated fighters in action – Mikael Zewski (26-0, 23 KOs) from Quebec, Canada, vs. Konstantin Ponomarev (27-0, 13 KOs) from Miass, Russia – in a 10-round bout for the NABF Welterweight Championship.
"We're excited to partner with Top Rank and our colleagues at HBO Sports to bring this high-caliber boxing series to truTV," said Lenny Daniels, president of Turner Sports. "We share a common vision to present these events in a new and inventive way and look forward to offering this compelling content to our viewers."
"We see this as a great opportunity to bring more coveted live sports programming to the network and believe Friday night primetime fights will resonate with truTV's young audience," said Chris Linn, truTV president and head of programming.
"Partnering with Turner Sports and truTV for a new and unique boxing series will further invigorate and grow the sport," said Todd duBoef, president of Top Rank. "Turner Sports' innovative approach to production and programming has attracted and engaged tens of millions of fans of the NBA, MLB, NCAA and PGA and we believe the same will be true for boxing. Additionally, the collaboration between the HBO and truTV programming will help develop and expose current and future champions and world-rated contenders to a broad audience with consistency. All credit goes to Turner's David Levy, Turner Sports' Lenny Daniels and truTV's Chris Linn who understand the impact of live sports and were instrumental in developing this concept into a program for their platforms."
"Everybody at HBO is thrilled to see a new platform for live coverage of professional boxing being launched by a bold and creative network such as truTV," said Ken Hershman, president of HBO Sports. "We congratulate Top Rank and Turner Sports on this new initiative. We look forward to lending our support to this important new franchise that will clearly benefit the sport, the fighters and the fans from day one of the series' debut."
About Turner Sports
Turner Sports, a division of Turner Broadcasting System, Inc., is an industry leader in the delivery of premium sports content across all multimedia screens. Turner Sports' television coverage includes the NBA, Major League Baseball, NCAA Division I Men's Basketball Championship and professional golf. The company also manages some of the most popular sports destinations across broadband and mobile platforms including Bleacher Report and its top-rated Team Stream app, NCAA.com and the critically-acclaimed NCAA March Madness Live suite of products, PGA.com and the Sports Emmy Award-winning PGA Championship LIVE, as well as an accompanying collection of mobile sites and connected device apps. Turner Sports and the NBA also jointly manage NBA Digital, a robust collection of offerings including NBA TV, NBA.com, NBA LEAGUE PASS, NBA Mobile, the NBA Game Time App, NBADLEAGUE.com and WNBA.com.