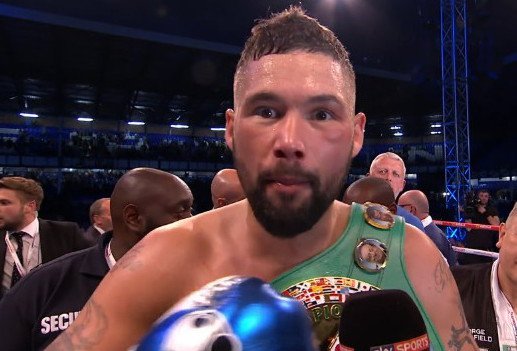 Back in May, underdog Tony Bellew rose to the occasion and put in a contender for best performance by a British fighter this year, when he destroyed the dangerous Ilunga Makabu in three-rounds to take the WBC cruiserweight title. Now, "Bomber" has to hold onto the belt, and his first defence will take place in Liverpool in October, Bellew told Sky Sports.
Bellew ripped the belt from Makabu in front of his hometown fans and he is obviously pleased to be making his maiden defence at home – but there seem to be a pretty big number of possible opponents. First choice for Bellew would be former WBA heavyweight champ David Haye. Bellew really does want to get it on with Haye, his calling him out not just mere hype/publicity. In fact, Bellew says Haye needs him if he's to make good money.
"Everything's possible but I think he needs me," Bellew said of Haye to Sky Sports News HQ. "David Haye likes to go on that he's this and that in the rankings but let's get one thing clear – David Haye is back to chase the money, and the money only. Him and me is a big money fight. So it's either me and him or him and [Anthony] Joshua, but I don't see how he goes in with Joshua after basically being in with two crabs. He's been in with two absolute jokes (Mark de Mori and Arnold Gjergjaj)."
Bellew said Haye needs to seriously up the level of his opposition and that as much as Haye's projected fight with Shannon Briggs is an improvement over De Mori and Gjergjaj, this too is a poor fight – "he's old enough to be my granddad," Bellew said of the 44-year-old. Bellew might face long-time contender B.J Flores in October instead. Bellew and Flores have been going back and forth on social media, with the two calling one another all manner of colourful names.
Flores is good friends with Haye, and Bellew said that if he cannot get "The Bermondsey B***h" (Haye), he could fight "The Nightclub Queen," (Flores.)
"His mouth keeps running away with itself," Bellew said of Flores, who has also moved up from light-heavyweight as he himself did (Flores even fighting up at heavyweight last time out). "I like to refer to him as the nightclub queen. He's a mouthpiece who has made himself known since I found my green and gold belt."
37-year-old Flores, 32-2-1(27) challenged Bellew to face a fighter who has never been stopped, and also told Bellew he "looks like a teenager." There is a genuine bit of needle between the two. Almost as much as there is between Bellew and former unified cruiserweight king Haye. And then there are the likes of Denis Lebedev, Mairis Briedis and others expressing interest in challenging Bellew. It seems everyone wants to fight for the green belt the Liverpool warrior holds.