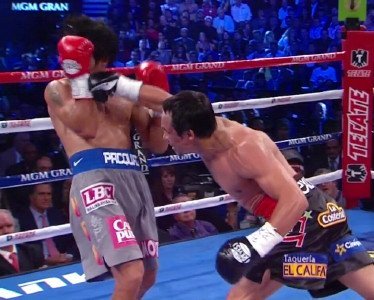 A new article courtesy of GQ Magazine, taken as it is from a new book by gifted writer Elliot Worsell, professes to list "The five most devastating knockouts in boxing history." Though the clearly well thought out list is a good one, such a top-5 is, and can only be, subjective; down to opinion.
No way can any top-5 – be it picks of greatest boxers, greatest fights, greatest trainers, or indeed greatest anything – please EVERYONE. But the GQ list is worth reading, at the very least.
Here it is:
1: Julian Jackson KO Herol Graham
Yes, a brutal, nasty KO, but one scored over a relative soft-chin; Graham's best qualities being his incredible defence. Okay, Jackson gets credit for being one of only a few fighters able to cleanly tag Graham, but boxing history has in its vast archive more memorable and devastating KO's – of rock-chinned fighters – surely.
2: Derrick Jefferson KO Maurice Harris
Worsell really gets credit for picking this, a largely unknown KO, from a largely unknown great battle. Words fail: check this war, and its ending, courtesy of YouTube. Still – the second most devastating KO in boxing history?
3: Ray Mercer KO Tommy Morrison
Yeah, okay, and yeah, yeah, yeah again – this one WAS devastating!
4: Juan Manuel Marquez KO Manny Pacquiao
As clean, and as shocking a one-punch KO as you will ever see, this pick too gets no ill feelings!
5: Vincent Pettway KO Simon Brown
More disturbing (for the viewer) than anything else (Brown, down and out, eyes closed but still pushing out slow, uncomfortable punches), this one just might be one of the shocking KO's you haven't seen unless you're a hardcore fan – so more props to Worsell for including it in his list.
But which KO's are missing from the GQ piece?
Again, you cannot possibly please everyone, but here are five more picks that, who knows, might be more deserving of being called The five most devastating knockouts in boxing history:
1: Sugar Ray Robinson KO Gene Fulmer
Textbook punching proves too much for one of the sturdiest chins in boxing history.
2: Thomas Hearns KO Roberto Duran
Okay, Duran might not have been in tip-top shape, but no-one – absolutely no-one – ever did to him what "The Hitman" did!
3: Rocky Marciano KO Jersey Joe Walcott
Everyone has seen and remembers Rock's "Suzie Q," but what is often forgotten is the beating Marciano took beforehand. To come back and blast the skilled and tricky Jersey Joe the way he did earns "The Rock" more points.
4: Jersey Joe Walcott KO Ezzard Charles
On this occasion, it was Arnold Cream (AKA Jersey Joe) who scored the one-punch KO; his blistering uppercut being masterfully placed.
5: Muhammad Ali KO Sonny Liston
Controversial? Yes. Shocking? Yes. Still talked about and debated all these years later? Oh, yeah! But the infamous "Anchor Punch" that Ali dropped Liston with is certainly THE most memorable/confusing/agonising one-punch KO of all-time. And just maybe it was legit after all! Ali had power; just ask George Foreman.