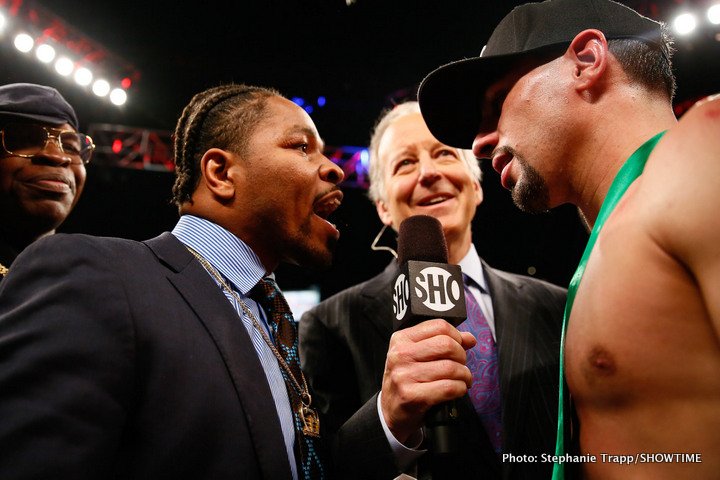 With the unfortunate series of injuries he has had and is still going through showing no apparent sign of going away for the time being, WBA/WBC welterweight champ Keith Thurman has relinquished his WBC crown – as fans may have read. The two fighters ordered to fight for the vacant strap – Shawn Porter and Danny Garcia, both of whom dropped a decision defeat to "One Time" – are now priming for battle. And what an intriguing battle this one promises to be.
Who wins?
Porter, 28-2-1(17) was the co-star in a Fight of The Year candidate when he went to war with Thurman back in the summer of 2016, losing a unanimous decision that in truth could have gone either way. The action was so special, fans called for a second slice almost immediately. We are still waiting for that rematch, but with a fully healed Thurman poised to challenge the Porter-Garcia winner in an effort to regain his belt, maybe we could see Thurman-Porter II before too long.
Garcia of course will disagree, sure as he no doubt is that he beats Porter. "Swift," last seen pulling out a stunning KO win over a game but faded Brandon Rios, lost a far less thrilling 12-rounder with Thurman, Garcia overcoming a torrid first quarter to hang in there to the final bell. Surprisingly to many, the result was a split decision and Garcia, 34-1(20) instantly cried robbery and called for a return go at Thurman.
Now, at a date and venue to be determined, Garcia and Porter will rumble, with the prize being both the WBC title and that shot at revenge over the man from Florida. Porter-Garcia is a tough one to pick. Garcia has never shone as a 147 pound fighter the way he did down at 140, yet he is one tough dude. A tough dude with skills and a great deal of experience. But Garcia has been lazy in some of his fights – some of his fights as a welterweight. In this regard, Porter is a polar opposite. Possessing a quite ridiculous engine, and with it an amazing ability to keep the work output going for all 36-minutes, Porter is one of the most consistently exciting fighters out there today.
Does Porter, who, like Garcia, has a great chin, out-work his man in this fight; does "Showtime" show that he wants it more than Garcia? Then again, both men carry good power; the edge perhaps going to Garcia (his left hook being a formidable weapon).
We know what Porter is about, and his let's-go-to-war and battle it out approach doesn't look like changing in this fight; or in any fight come to that. Garcia, more polished, may have to work harder than he has done in some time if he's to pick up more points than Porter. And, a quite surprising KO aside, this fight does have the look of a distance fight; a potentially thrilling distance fight at that.
There will be other factors discussed the nearer this fight gets, but from a sheer desire, work-rate and wanting it more perspective, Porter is the early favourite to get the win here.