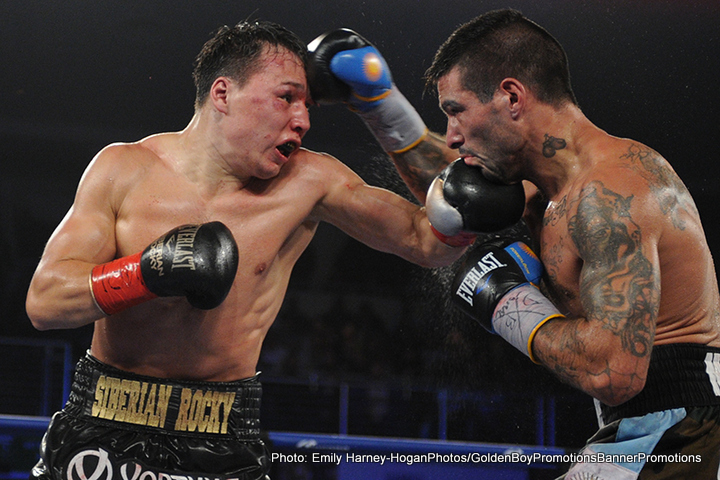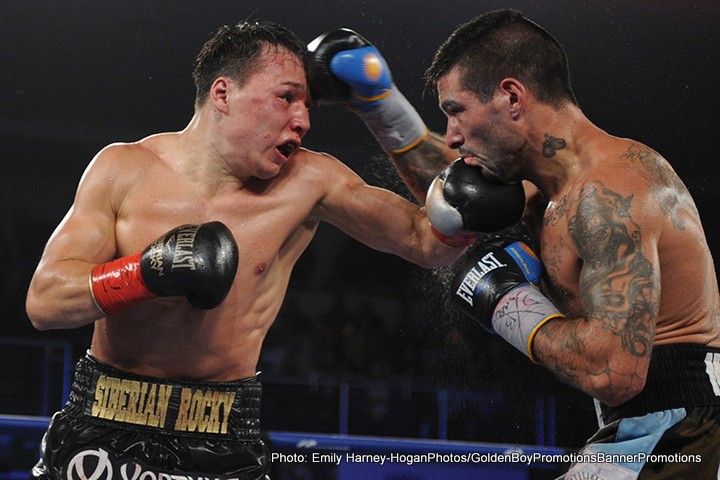 Last night in Verona, the watching world saw Lucas Matthysse (37-3, 34ko) and Ruslan Provodnikov (24-4, 17ko) deliver twelve brutal rounds that in my opinion adequately delivered on the promise of war. Yet because the much mooted knockout between the punchers failed to transpire, reports by sites like Sky Sports in the UK are saying;
"The predicted slug-fest between the two heavy hitters never really took off"
I guess some folk are never truly happy because in my mind the fight played out much as I thought it would, with the hittable Provodnikov getting banged up by a Matthysse who used more of the boxing skill we knew he had going in. He boxed a sensible fight fight for me and didn't get caught trading TOO often!!
Despite the whining from some quarters, there was plenty of action in my book, and the only surprise for me was the judges scoring.
Despite his constant coming forward, the only credit I gave Provodnikov on my card was for his warrior-like grit and "effective aggression". Yet that alone doesn't win you rounds. How anyone could score that fight a 114-114 draw is beyond me, and even the score of 115-113 (twice) was hard on the Argentine fighter in my book.
I scored the fight 117-112 for Matthysse.
Now I am not taking anything away from Ruslan at all who can be more than proud of his performance. His post fight photo of himself, during a doping test ,with blood tinged urine in a pot on the table, summed up his fan-friendly, all action style perfectly for me. The caption read;
"I'm sorry for all the fans. I lost tonight and felt I could have won the fight. I almost had him, but things happened the way they happened. A lot of respect to Lucas, he was the better fighter tonight. Once again when I did my post-fight doping test I had black urine. The first time was vs Tim Bradley. I hope everybody saw what they expected from the fight."
For me, Provodnikov's heart and desire isn't in question. It never was and never has been, since working his way out of ESPN and Friday night fights (v Herrera) all the way through the Bradley-Alvarado-Algieri run and up to last night.
However, his skill-set IS in question for me and many others,(it always has been to a degree) and the warrior mentality has really been all that's got him through until now, win or lose.
He fights in straight lines, he's very flat flooted and displays little to no head movement. In short, there is a clear blueprint to beat him. Box. Its that simple, a boxer beats him. If you can survive his pressure, as Chris Algieri did (just), then it's more than possible to beat him on the back-foot.
Now that's not what Matthysse did, but he did evidence the wider variety of punches, the better footwork and movement on the night. Like a said, there is a blueprint.
Perhaps the most crucial factor now is how long can Ruslan keep getting beaten up in fights? It may be great to watch, but wars take their toll, and after Bradley and Matthysse in particular, I'm convinced the cumulative damage will start to show, if it isn't slightly already. The volume of punches that a fighter like Ruslan absorbs because of his crude style isn't healthy for any fighter, yet one thing is for certain, it pleases the fans!
After last night's entertaining outing, there's no way Provodnikov is going to struggle for fights. My only concern for him would be that he needs to choose carefully. For all the reasons I've listed above. He needs someone who will try to use the boxing blueprint to out hustle him, but whom he can bully back and out-muscle. For that reason I'd choose a guy like Adrien Broner. Look what Maidana did to him.
Maybe a fight with Danny Garcia could persuade "Swift" to wait out his move to 147 a little longer? Lamont Peterson would also be a great fight to watch for us fans, but I'm not sure how much longer Provodnikov can take the beatings guys like that will dish out to him?
Matthysse will likely move on to Crawford next, who would also beat the Russian badly in my opinion, (especially after last night's strong showing vs Dulorme.) That is a fight I'm really looking forward to already. Crawford/Matthysse. Terence was fantastic last night, and his restraint and control until let of the leash in the 6th was a great display of composure and discipline. It will be a good fight as Matthysse has shown he has skill, just against the Omaha fighter he will have to turn it up to 10.
I think it's now time for Provodnikov to take some time out and pat himself on the back after another visually appealing, fan-friendly performance. His team at Banner Promotions need to do what they can to do the best for him in terms of what happens next. I think it's fair to say that it may not be too long until Provodnikov is just another 140lb gatekeeper, even if he has some more good nights in him just yet. I hate to sound harsh writing that, but boxing is a cruel sport. He needs to look around him and consider the future carefully. Yet one thing is for sure. He is a fantastic fighter to watch.
Thanks for reading @undilutedpoison