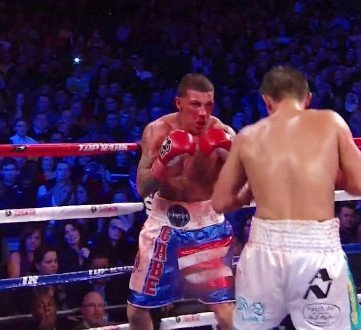 It took Gabriel Rosado (21-6, 13 KO's) nine months to speak up but he's now saying that he's suspicious about the gloves that WBA middleweight champion Gennady Golovkin (27-0, 24 KO's) used when he stopped him in the 7th round last January in Madison Square Garden, New York. Rosado, 27, says that he noticed that there was little padding around the knuckle portion of the gloves compared to his own, according to RingTV, and that has Rosado wondering what's up.
Golovkin turned Rosado's face into what resembled hamburger by the 7th round, and it was pretty quick the way his features changed once Golovkin started to land his power shots. Rosado was running the entire fight with the exception of the 5th round. In that round, Rosado mixed it up with Golovkin and both guys got hit with some good shots. The fight was pretty much over in the 6th round after Golovkin caught Rosado with a right hand uppercut that staggered him. A bleeding Rosado then went back onto his bike until the fight was stopped in the 7th.
Rosado told RingTV "I'm not saying that he's not fighting with 10 ounce gloves, but when I noticed them, them s**** were skinny as s***. Mine had more cushion on the knuckles, and his had less. When he hit me in the first round, it felt different. He only hit me with a jab, but it felt like a bat hitting the top of my dome."
According to Golovkin's promoter from K2 promoter, Tom Loeffler, both Golovkin and Rosado's gloves were checked out and approved by the New York State Athletic Commission chairman Melvina Lathan in addition to members of her staff.
If Rosado felt this way then why didn't he make a huge production about it at the time? Waiting nearly a year to speak his mind on the subject seems a little odd because it's too late to go back and examine the gloves. It's way too late to talk about that fight now. Rosado is bringing stuff up way past the point where it's helpful.
Golovkin has always had huge power, and he's been knocking out people left and right since his amateur days. Rosado obviously wasn't ready for that kind of power that Golovkin possessed.
Rosado is facing WBO middleweight champion Peter Quillin on Saturday night on the undercard of the Bernard Hopkins vs. Karo Murat card at the Boardwalk Hall in Atlantic City, New Jersey. Quillin is expected to knockout Rosado just as Golovkin and Alfredo Angulo did.