Puerto Rico's Emmanuel 'El Sensacional' Rodriguez (19-0, 12 KOs) is totally confident of defending his IBF title when he faces Japan's pound-for-pound star 'Monster' Naoya Inoue (17-0, 15 KOs) in the WBSS bantamweight semi-final on Saturday at The SSE Hydro in Glasgow, Scotland.
"The sky is the limit for me and my team," said Rodriguez who's on a mission in Glasgow to prove people are wrong about making Inoue a favorite in the hotly-anticipated bout of two unbeaten warriors.
"I am well aware that I am fighting a guy considered the best by reporters and fans, but I have been waiting this moment my entire life. I always wanted to fight the best. We are going to go in with all the tools and I can tell you that we will get nothing but the victory and shut up some people's mouths. On May 18 I will still be the world champion and I will go all the way and take home the trophy to Puerto Rico."
Inoue has predicted a KO win, and Rodriguez expects to win by KO or a unanimous decision. "I will win no matter what, that's my prediction," said the highly-skilled who trained in Cuba prior to the semi to fully concentrate on Inoue.
But whoever is in front of him in the World Boxing Super Series, Rodriguez feels well prepared.
"We have studied every fighter way before the tournament. We got this."
Naoya Inoue wants to KO Emmanuel Rodriguez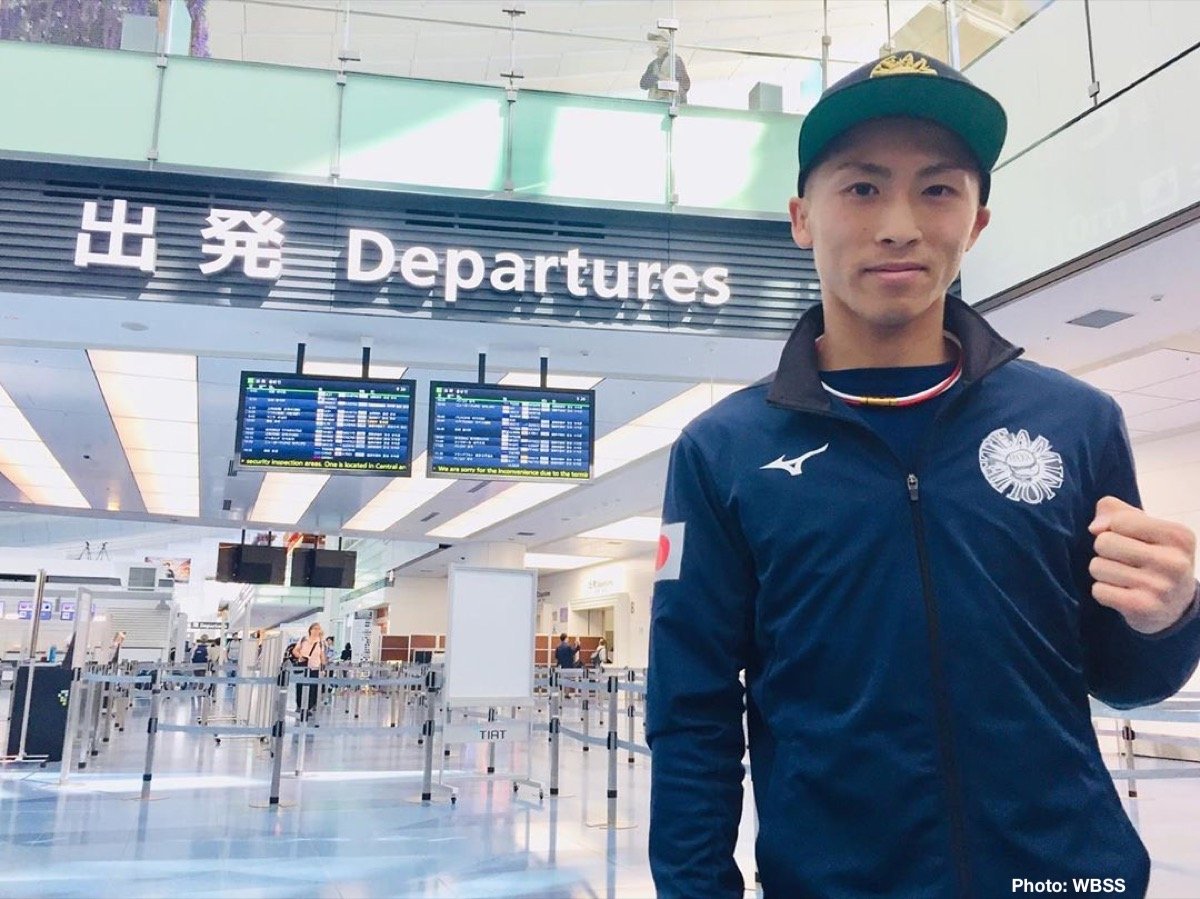 WBA champ Naoya Inoue (17-0, 15 KOs), the Japanese pound-for-pound star, has landed in Glasgow, Scotland ahead of his WBSS bantamweight semi-final against Puerto Rico's IBF titleholder Emmanuel Rodriguez (19-0, 12 KOs).
"I am happy to be in Scotland," said Inoue. "I'm excited to be fighting in front of the Scottish fans and I am looking forward to putting on a great performance."
Inoue entered boxing's most prestigious stage with an impressive showing. Two hits were all he needed in the opening round of the WBSS bantamweight quarter-final on October 7 in Yokohama, Japan; Inoue threw a frightening two-punch combination and decimated former titleholder Juan Carlos Payano and sent shockwaves through the crowd and the world of boxing.
16.000 fans inside the Yokohama Arena could hardly believe their eyes. Their hero was gone in 70 seconds.
"I felt pretty good about my combination," Inoue said of the winning two-punch. "And looking at the way he fell onto the mat, I thought it really damaged him."
It was his second consecutive first-round knockout, the other coming against Jamie McDonnell, and neither of the opponents had ever been stopped before.
In the semi-final on May 18 at the SSE Hydro in Glasgow, IBF titleholder Emmanuel Rodriguez is the next challenge for the Japanese superstar with the fitting nickname 'The Monster'. And he is aiming for a KO, like always.
"My aim is a KO in any fight," said Inoue. "In my last two fights last year, that moment just happened to come in the 1st round. My goal is not to finish the fight in the 1st round, but will go for the KO when I see the chance."
Many experts have tipped Inoue, WBSS No. 2 seed, to lift the Ali Trophy, but he has a tough opponent in the form of unbeaten Rodriguez (26). Inoue witnessed 'El Sensacional' close-up from ringside in Orlando on October 20 when the Puerto Rican came out on top after an epic back-and-forth battle with Australia's Jason Moloney.
"Rodriguez is a good boxer. His counter punching techniques impressed me the most watching from ringside in Orlando," said the 26-year-old.
In just a little over a week from now, the pair will share the illuminated square.
"I can't wait. I came to Scotland to win and to move on to the final and prove I am the best bantamweight in the world!"
Rodriguez Interview
The IBF world bantamweight champion, Emmanuel "Manny" Rodríguez (19-0, 12 KOs) and his team left for Havana, Cuba to continue training for his unification fight against WBA world champion Naoya Inoue (17-0, 15 KOs). This is the semifinal round of the acclaimed World Boxing Super Series.
"I will be quartered in Cuba for 77 days. It will not be easy to be away from my family for so long, but the sacrifice will be worth it", said Rodríguez.
"We trust the plan that we have with my new coach William Cruz, and on the track with veteran José Bonet. The results will show in the fight. The chemistry that we developed in these past weeks of light training has been very good. This will be the first time that I'm not the favorite in a fight, and the motivation is incredible. It's very huge. I like challenges. Our goal and focus is to take the victory and that Puerto Rico continues to shine in boxing", said an emotional Rodríguez, from the Luis Muñoz Marín Airport in the city of Carolina, Puerto Rico.
Rodríguez's promoter, Juan Orengo of Fresh Productions Boxing, explained that "this camp will not have room for distractions. It will have a lot of boxing and teamwork. Manny will be in top condition. Also, prospect Jonathan 'Bum Bum' López is joining us in Cuba. He is another fighter from our squad, and will fight where the Manny Rodríguez fight takes place. We are very enthusiastic about everything that is happening. Manny was always looking to fight Inoue, and it's finally happening".
Emmanuel Rodriguez (19-0, 12 KOs) gives insights on preparations for his Bantamweight Ali Trophy semi-final against Japanese 'Monster' Naoya Inoue (17-0, 15 KOs)…
How has life been since winning your quarter-final against Jason Moloney?
"I rested for three weeks, spending time with family and friends, and now we have been doing some light training for a couple of weeks."
Do you feel confident after watching the other remaining fighters in the tournament?
"Of course I'm very confident, I know I got what it takes to win. I entered the World Boxing Super Series because I have always wanted to fight the best. Now I'm fighting the boxer who boxing reporters think is winning the whole series, and that's more motivation for me and my team. Puerto Rico will shine!"
Did anyone impress you?
Honestly, Moloney impressed me the most. He used to fight at 122lb and 126lb. He was the mandatory challenger by the IBF. He came to win and was intelligent but I managed to win the fight 8-4 or 9-3 in my opinion. I really needed that type of fight for 12 good action rounds. Good experience."
How will you prepare to fight Naoya Inoue and what is your prediction for the fight?
"I have already started training in Puerto Rico but in a few weeks, my team and I are leaving and heading to Cuba to train there. I will be away from home, family and friends to be 100 percent focused on this important fight. I will win no matter what, by KO or UD. That's my prediction."
Tickets for the Monster WBSS Semi-Finals night, Ivan Baranchyk vs Josh Taylor and Naoya Inoue vs Emmanuel Rodriguez on 18 May at The SSE Hydro in Glasgow, Scotland are on sale now from TheSSEHydro.com
All the action will be live on DAZN in the U.S. and Sky Sports in the U.K.