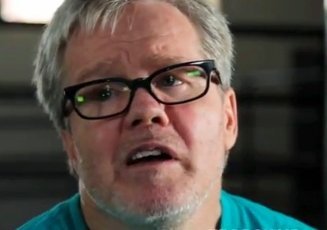 WBO 140 pound champion Chris Algieri (20-0, 8 KOs) came out of nowhere recently when he fought and defeated WBO light welterweight champion Ruslan Provodnikov by a 12 round decision last June.
The loss was a major blow for Provodnikov's trainer Freddie Roach, because he's the guy that got Provodnikov for Algieri fight. Roach now finds himself in a situation where he might have another one of his fighters beaten by Algieri when WBO welterweight champion Manny Pacquiao (56-5-2, 38 KOs) faces him on November 22nd in Macao, China.
Rather than give Algieri his props for having beaten Provodnikov, Roach says that he's not at the 35-year-old Pacquiao's level and that he's not ready for the challenge, even though we just saw Algieri expose one of Roach's best fighters in Provodnikov last June.
At the time, Roach felt that Provodnikov was ready to challenge Pacquiao. But oddly enough, Roach doesn't think that Algieri is ready for Pacquiao despite him having schooled his fighter Provodnikov.
"He's not in Manny's class. He is jumping a little bit too soon," Roach said via Fightnews.com. "He's a good boxer," said Roach.
I guess it's asking a little too much of Roach to expect him to give credit to a guy that beat his fighter and who could very well end up beating another one of his guys in Pacquiao.
At this point in Pacquiao's career anything is possible. He could win easily or he could end up getting knocked out or out-pointed.
Pacquiao is no longer the slam dunk sure thing that he was 5 years ago when he was knocking guys out left and right at an alarming rate. The days of Pacquiao knocking guys out are gone, and all that's left is Roach making knockout predictions for him based on a fighter that no longer can do the things he's asking him to do. Roach wants Pacquiao to jump through the hoops like he did when he was in his 20s, but he's coming up short of the mark now that he's in his mid-30s.
In looking at how limited Pacquiao looked in his last fight against Tim Bradley, you have to give the 5'10' Algieri a very good chance of out-boxing Pacquiao and winning by a point's decision.
Algieri probably doesn't have the kind of power to knock Pacquiao out, but he definitely has the talent to box circles around him. Pacquiao is too old and too short to be someone you can expect to handle the movement and the jabs that Algieri will be hitting him with in this fight.