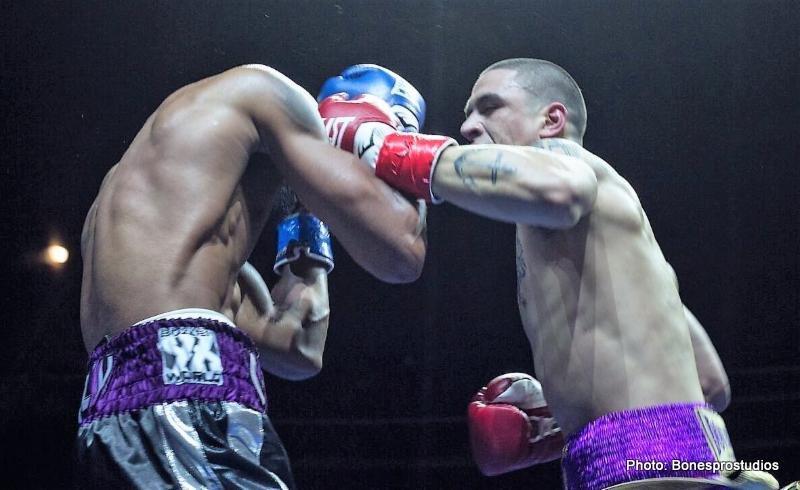 Richard "Popeye The Sailor Man" Rivera put on a dominating performance in the main event as he crushed Kevin "The New England Bully" Cobbs for the first two rounds and then ended the fight in the third with two brutal knockdowns, the second of which prompted referee Jackie Morell to stop the one-sided bout at two minutes and fifty-one seconds.
He upped his undefeated record to 6-0, 5 KOs and with the technical knockout victory, he obtained the vacant UBF New England light heavyweight championship. Cobbs fell to 10-3, 4 KOs.
"I was not gonna to look for the knockout, but if it came, I was gonna to take it. I noticed that he stopped throwing as many punches as he was in the early going, so I tried to land a big right hand, but he was over committing to his duck, so I changed it to an uppercut and my punch landed flush and he was out of there," said Rivera.
Rivera faced his most experienced opponent of his young career and passed the test with ease. He dominated the first two rounds as he aggressively pressed the action and pinned Cobbs on the ropes. Rivera staggered Cobbs on several occasions from powerful shots as Cobbs desperately tried to cover up. Rivera continued to punish Cobbs in the third and then towards the end of the round, he knocked him down from an overhand right. Cobbs slowly got up and Rivera immediately connected on a brutal right uppercut that knocked out Cobbs, which caused Morell to stop the bout. This was Rivera's third consecutive fight that he ended via his trademark right uppercut.
Rivera Promotions Entertainment promoted their first boxing fight of the year "New England's Future 5" at the sold-out Palladium in Worcester, Massachusetts.
In the co-feature, unbeaten two-time National Amateur Champion Bobby "BH3" Harris, III (2-0-1) and Saul Almeida (0-8-2) battled to an extremely unpopular four-round majority-draw decision with one very generous scorecard for Almeida (39-37) and two scorecards (38-38). Harris, III controlled the action and out worked Almeida throughout their super middleweight bout. He also connected on the much harder shots. Almeida barely landed anything offensively, so it was extremely surprising that the judges scored the bout the way they did. After the fight, Harris, III said that he fought this bout with an injured right shoulder which got damaged while he was sparring for this fight. He will undergo surgery shortly to repair it.
Super middleweight Troy "Omar KO Artist" Artis scored a minor upset over Jose "Rated R" Rivera via a six-round majority decision. Artis was the more aggressive fighter and landed and threw more punches. Rivera connected on the harder shots, but only threw one punch at a time. Artis who is a lot better than his record indicates, improved to 5-7-1, 3 KOs via one scorecard (57-57) and two scorecards (58-56). He has won two in a row. Rivera dropped to 4-2, 3 KOs and has his two-bout winning streak snapped.
Omar Bordoy, Jr. put on a dominating performance as he prevailed over Seth Basler via three scorecards (40-36) for the four-round unanimous decision. The undefeated junior welterweight upped his record to 4-0, 1 KO. Basler fell to 0-5. Bordoy, Jr. put on a masterful performance as he connected on the vast majority of punches he threw, especially to the body. He staggered Basler on several occasions, who somehow did not go down.
Unbeaten welterweight Wilfredo "El Sucaro" Pagan pummeled Bryan "The Brick" Abraham in the second-round which prompted referee Morrell to stop the one-sided bout at one minute and twenty-nine seconds. Page improved to 4-0, 2 KOs with the technical knockout victory. Abraham dropped to 6-29-2, 6 KOs. Pagan scored a knockdown at the end of the first via a straight right, left combination.
Derrick "Bad Boy" Whitley defeated Robert Blankenship via one scorecard (40-35) and two scorecards (40-36) for the four-round unanimous decision. Whitley dominated this junior middleweight bout as aggressively stalked Blankenship throughout the fight. He connected on the harder shots and got the better of the exchanges. He upped his undefeated record to 3-0. Blankenship fell to 1-3. Whitley came into this fight ten pounds overweight and had to forfeit a quarter of his purse to Blankenship.
Joseph Gross made a successful welterweight debut (1-0) as he prevailed over Samuel Vasquez. Vasquez dropped to 1-3, 1 KO. Vasquez fought two weeks ago in a losing effort to undefeated Khiry Todd. Gross knocked down Vasquez via an overhand right in the middle of the second-round. He tried to finish the fight, but Vasquez survived the round. Gross controlled the action throughout the bout. He prevailed on all three scorecards (40-35, 39-36, and 38-37).
Luis "Lobito" Rivera scored a four-round majority decision over Carlos Marrera, III via three scorecards (40-36, 39-37, and 38-38). This was a great, fan-friendly junior lightweight bout with both fighters boxing at an extremely fast pace. Rivera aggressively pressed the action and connected on the harder shots, while Marrera, III landed a little better on the counter punches. Marrera had a cut over his right eye in the fourth-round that bled for the rest of the round. Rivera improved to 4-3, 1 KO and has won three in a row. This was his first fight in three years. Marrera, III fell to 0-2.
Light heavyweights Ray "Bazooka" Graceski (5-0-1, 3 KOs) and Pawel Banasiak (0-0-1) battled for four, hard-fought, action packed rounds that was ruled a draw. Banasiak landed a powerful right hook that nearly dropped Graceski at the end of the first-round. The next three rounds were back-and-forth as both fighters had their moments as they connected on big punches. Banasiak an experience Muay Thai fighter made his professional debut. Graceski has fought just about once a year dating back to 2010. All three scorecards had identical scores (38-38).
Jelame Garcia scored a dominating four-round unanimous victory over Nathan Schulte by two scorecards (40-36) and one scorecard (39-37), as he went the distance for the first time in his career. Garcia landed whatever he wanted on Schulte who barely threw any punches and clinched for most of the bout. Garcia kept his perfect record intact in this super middleweight bout as he moved to 7-0, 6 KOs. Schulte dropped to 0-5.